One of the things that's long been said about New York City, no matter where you're from or what you do, no matter how old or young, when you're there you feel like you're at the center of the world.
Without a doubt, when it comes to the Big Apple's culinary offerings, that couldn't be more true. Drawing in people from every corner of the globe means that their local and regional cuisines come with them. Add to that incredible mix some of the greatest chefs in the known world, an insanely competitive environment and the pressure to constantly innovate and you'll understand why New York City's 2018 Michelin star restaurants offer up simply some of the best dining experiences on the planet.
From broad, elegant dining rooms with panoramic views, to intimate open kitchens and tiny alternative spaces, the sheer diversity of Michelin star dining experiences in New York City in 2018 is utterly mind blowing.
If you love excellence in food, check out these three and two starred Michelin restaurants in New York City today. You will not be disappointed. But remember with 8.5 million people in New York City, and seating limited for some of the greatest dining experiences on earth, reservations, well in advance, are absolutely essential.

Top 3- Star restaurants
Chef's Table at Brooklyn Fare
Website –  Visit Now
Type – Japanese inspired, French technique
Price range –  $394.36
District – Hell's Kitchen, Manhattan
Address – 431 West 37th Street
New York, NY 10018
Chef César Ramírez initially opened his Chef's Table at the Brooklyn Fare market next to a grocery store. Since relocated to the Hell's Kitchen neighborhood in Manhattan, Chef's Table at Brooklyn Fare serves up 24 courses of the freshest, most unique food in the world.
Integrating French techniques with traditional Japanese cuisine focused on seafood and shellfish, this 18-seat eatery, is a one-of-a-kind fine dining experience.
This three-star Michelin restaurant in New York is centered on the idea of the communal dining experience. Guests, who are asked to refrain from using their cell phones, taking pictures or notes, are seated at a counter in an open-ended rectangle allowing dinners to study every detail of the meticulously prepared dishes accenting the integrity of each and every ingredient.
It is customary for chef Ramírez to stop to watch his guests eat each course to ensure their complete satisfaction with his seasonal creations.
Eleven Madison Park
Website –  Visit Now
Type – A New York twist on modern European
Price range –  $315
District – Manhattan
Address – 11 Madison Avenue
New York, NY 10010
Considered by many as the best restaurant in North America, Eleven Madison Park offers a fine dining experience in the heart of New York City overlooking Madison Square Park.
Opened in 1998, Eleven Madison Park has been owned by Restaurateur Will Guidara and Chef Daniel Humm since 2011. With the menu continually evolving, chef Humm offers an eight to ten course tasting menu, adding a contemporary New York twist to traditional European cuisine, in an elegant, light and airy, high-ceiling art deco dining room serving about 80 people per night.
An abbreviated version of the full tasting menu is available at the bar.
Le Bernardin
Website –  Visit Now
Type – Seafood
Price range –  $225
District – Theatre District, Manhattan
Address – 787 Seventh Avenue
New York, NY 10019
At Le Bernardin, the philosophy is simple, put the fish first and let the simple freshness of the ingredients speak for themselves without overwhelming, contrived distractions. Focused exclusively on seafood, chef Eric Ripert has split his menu into three sections, Almost Raw, Barely Touched and Lightly Cooked, to accentuate the simple elegance of the ingredients themselves.
This three-star Michelin restaurant in NYC presents its tasting menu in a sleek, lightly minimalist fine dining setting without the need for pretense. As waiters glide past a massive tryptic of lightly storm tossed seas, the ambiance offers up a cultivated sophistication that works wonderfully with the gentle refinement of chef Ripert's creations.
Masa
Website –  Visit Now
Type – Japanese, Sushi
Price range –  $595
District – Hell's Kitchen, Manhattan
Address – 10 Columbus Circle
Time Warner Center, 4th Floor
New York, NY 10019
Designed as an all-inclusive experience embodying the Japanese term shibui, which means a subtle, simple, unobtrusive beauty, Masa is the creation of Japanese chef Masayoshi Takayama and is hands down seen as the best Michelin starred restaurant in NYC specializing in sushi.
In love with food from a young age, chef Takayama studied under the tutelage of legendary sushi master, Sugiyama Toshiaki, at Tokyo's famous Ginza Sushi-ko.
After travelling to the US to follow his boyhood dream, chef Takayama first started a small kitchen that combined Japanese and American dishes in a simple setting before opening a restaurant in Beverley Hills named after his mentor's hiome; Ginza Sushi-ko.
In 2004, he relocated to New York to open Masa in the Time Warner Center as a complete, all-around sense stimulating fine dining experience. The space itself is intended to work as a canvass, upon which the delicately prepared ingredients are allowed to come to life.
Per Se
Website –  Visit Now
Type – French
Price range –  $340
District – Hell's Kitchen, Manhattan
Address – 10 Columbus Circle
Time Warner Center, 4th Floor
New York, NY 10019
Acclaimed for his innovation and attention to detail, chef Thomas Keller's Per Se opened in 2004 in the Time Warner Center featuring breathtaking views of Central Park and Columbus Circle in an intimate, light, yet refined setting.
As his second 3 Michelin star restaurant, based on his west coast hit in Napa Valley, The French Laundry, Per Se features a nine-course tasting menu centered on traditional French cuisine using only the freshest locally sourced ingredients.
With no single ingredient ever repeated throughout the meal, guests can expect an unending series of creative delights that highlight the distinctive taste and freshness of each individual ingredient working in complete harmony with each and every dish.
Aquavit
Website –  Visit Now
Type – Nordic cuisine
Price range –  $175
District – Midtown, Manhattan
Address – 65 East 55th Street, New York, NY 10022
Michelin stars NYC – 2 stars
Nestled in Midtown Manhattan, Aquavit first opened in 1987 to serve up a New York version of traditional Scandinavian cuisine in a fine dining setting.
Classic Nordic dishes using ingredients like herring, lingonberry, dill, brine and smoke are delicately woven into dishes to create balanced, graceful culinary experiences presented on clean, minimalist dishware made of wood, slate or earth.
The dining room itself is elegant without needing to be pretentious, created of clean white lines, soft dark wood, leather chairs and infused with silky white light.
Top 2- Star Restaurants
Aska
Website –  Visit Now
Type – Scandinavian cuisine
Price range –  $215 – $359
District – Brooklyn
Address – 47 South 5th Street
Brooklyn, NY 11249
Located in a renovated warehouse near the Williamsburg bridge in Brooklyn, Aska is the intimate yet bold creation of Swedish chef Fredrik Berselius.
Chef Berselius serves tasting menus that change with the seasons and highlight traditional Scandinavian ingredients in a spacious ten-table setting steeped in natural light.
Lamb, dry-aged beef, squid, razor clams, and oysters mingle with elderflower, gooseberries, fresh cheeses, smoked hake, cod roe, fresh breads and butter to evoke the phenomenal progress Nordic cuisine has made in refining traditionally strong flavors into a balanced and delicate series of new taste sensations.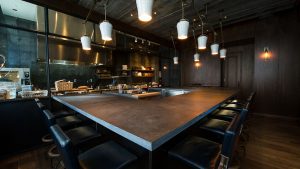 Atera
Website –  Visit Now
Type – American
Price range –  $275
District – Manhattan
Address – 77 Worth Street
New York, NY
Honesty, color and a deep-seated need to be in tune with nature and her ever changing bounty are what best define chef Matthew Lightner's Atera. Sound, color, feeling and taste all come together in a kitchen that is at once a reflection of natures vivacity and man's honored service to her beauty.
With 13 seats surrounding an open kitchen, the 20-course tasting menu is perfectly calibrated to the world beyond the restaurant's walls. Chefs at Atera are known to handle tweezers and eye droppers with the delicacy of a neurosurgeon surgeon working to restore sight to the blind.
Blanca
Website –  Visit Now
Type – Modern American
Price range –  $195
District – Brooklyn
Address – 261 Moore St.
Brooklyn 11206
An intimate experience inspired by chef Carlo Mirarchi's Italian heritage, Blanca offers up modern American cuisine to guests seated in 12 leather chairs overlooking an open kitchen.
White washed walls, adorned with a mounted blue fin tuna head, an old record player in the corner, add an air at once cozy and industrial to the 20-course tasting menu on offer four days a week.
Dishes are playful, if not at times unreal for the power they pack in such simple elegance.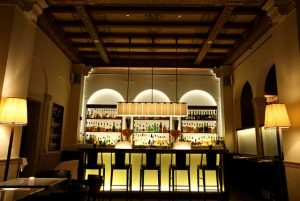 Daniel
Website –  Visit Now
Type – New French
Price range –  $190
District – Upper East Side
Address – 60 East 65th Street
New York, NY 10065
Posh yet refined, combining the traditional and the modern, chef Daniel Boulud's namesake restaurant presents classic French cuisine with warm hospitality.
The dining room's neoclassical architecture has been tweaked to give the space the feel of a welcoming, modernist French bistro still oozing fin de siècle sophistication.
The dishes themselves, served on pure white china, are absolute works of art, merging color, line, composition, smell and above all taste into a symphony of sheer, sensual culinary joy.
Disclaimer: All images are copyright to their respective owners and are used by USA Online Casino for informational purposes only.