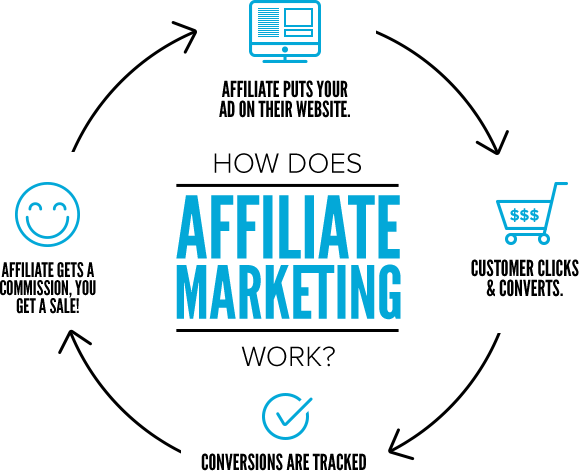 An affiliate program is a program that links publishers (affiliate marketers) who promote products, such as services and the businesses that create them. The program allows the marketers to earn a commission for every product they convince people to buy. The merchants or businesses benefit by leaving the task of marketing to the marketers. The merchants have to pay the marketers for their products to be promoted. The benefits the merchants get outweigh the cost.
Identifying a high-paying legit affiliate program can allow you to make good money on the Internet. When you want to monetize your blog or earn from your huge social media following, identifying the right program is crucial. This article will cover some of the affiliate programs in the United States you can join and earn some good money.
Amazon Associates
The world's largest e-commerce website also has the largest affiliate program. Amazon Associates has more than a million registered affiliates. One of the factors that have made the program the favorite among most affiliates is because of the availability of the different kinds of goods. This allows the site to have many visitors, further enhancing the chances of the affiliates to make more money.
Many people trust Amazon, thereby allowing the affiliates to make some money, although most of its products are cheap. The company has a conversion rate of up to 74 percent among its Prime members. Its conversion rate is low outside Prime, at 14 percent. However, it is still large because the company has many customers.
ClickFunnel Affiliate Program
This is one of the highest-paying affiliate programs in the United States. The program allows a person to earn huge recurring commission on successful sales of his or her products and services. Affiliate marketers earn 40 percent recurring commission on their links. You can buy a new car by just referring 100 customers to the company.
This program is popular because it is easy to enroll. It takes less than two minutes to register and get approved. When you join this program, the company gives you items, such as banners and swipe files, and anything else you may need. When you earn a commission, you are paid through PayPal or check.
JVZoo
JV Zoo rewards affiliate marketers for promoting their products. Your income depends on the kind of products you choose, with some paying as high as $100 per sale. It is advisable to choose expensive products because they have high commissions. One major advantage of this affiliate program is the commission is paid instantly to your PayPal account.
Sell Health
Sell Health is a popular company. It has hundreds of products you can market, especially if you are in the health niche. It has products for men and women, further giving you more options. The company has health and wellness affiliate programs where you can earn between $100 and $350 per sale.
5.Target Affiliate
The Target affiliate is popular among many marketers because most consider it an alternative to Amazon. Target sells many products and has a highly rewarding commission structure, which relies on sales volume. The Target affiliate provides commission in different categories, such as apparel, accessories, baby items, furniture, etc. To get the best from this affiliate program, it is advisable to operate in products in the main niches.
6.WordPress Affiliate Program
WordPress has an affiliate program that is managed by ShareASale network. WP Engine provides WordPress hosting and has more than 50,000 customers from many different countries. The program gives a commission of $200 per sale or 100 percent of an affiliate's first purchase. In addition, you earn a commission of $50 per sale from a purchase from referrals from sub-affiliates.
Regal Assets Affiliate Program
If you are looking for a high-paying affiliate program, Regal Assets is one such site. You can make up to five figures by just promoting its products. The company is an investment partner for those looking for retirement products, such as Gold IRAs. The commission is high because most of the company's clients invest a lot of money.
To join its marketing program, you have to submit an application and indicate your website and marketing experience. Experience with Google AdWords, Facebook, SEO, and social media marketing enhances your approval chances.
AWeber Affiliate
The e-mail marketing software has an affiliate program that allows you to earn a 30 percent commission as long as your affiliate is still on the program. It is free to register in the program. Currently, the company has more than 100,000 customers. The commission is paid monthly.
FitBit.com
Fitbit.com is a company that designs intuitive trackers worn on wrists or clipped on clothes. As people have become more concerned about their wellness, its products have become very popular. The use of these devices allows the users to track their calories and achieve their fitness goals fast. Fitbit has an affiliate program run by ShareAShare. You can earn a 12 percent commission per sale.
ClickBank
ClickBank has been in affiliate marketing for a long time. ClickBank sells various digital and physical products, making it one of the most popular affiliate programs. Many people have made millions of dollars by promoting ClickBank products. The process of joining its affiliate program is simple and free. Consequently, there are many crappy products on the website. However, there are also high-quality products.
If you want to know more about how this affiliation works, ClickBank has a training program. Moreover, you can learn more about ClickBank. The company has a paid program in its ClickBank University. The training is offered by professional and seasoned marketers.
Wealthy Affiliate Program
The Wealthy affiliate program is another program that can help you earn high commission. The program involves using its proven process to create a website, attract visitors, and make money. The program was started by Kyle and Carson in 2005 to allow other people to succeed online. The program has more than 800,000 Internet entrepreneurs.
You earn by sharing your secrets with the other people on your website. By referring more people to the program, you are assured of consistent revenue. The company has a starter account and a premium account. When your affiliate subscribes to the premium account, you earn $100.
eBay Partner Network
eBay has also emerged as one of the most popular e-commerce websites. Products on this platform are sold through auction. The company's affiliate program, eBay Partner Network, is common among bloggers and marketers. Unlike most programs where you earn a commission based on the product's selling price, here you get a fraction of the transaction fee eBay charges when a product is sold. However, given that the fee rises with an increase in price, you can make more commission by marketing products that are more expensive.
Shopify Affiliate Program
You can earn up to $1,500 on the Shopify affiliate program. The e-commerce website has many buyers and sellers, making it the perfect place for marketing products and services. The company is similar to Amazon, meaning you have many products to promote.
The process of signing up is simple. Furthermore, the company provides banners and other promotional tools to make it easy for you to market its products. You can make more money by selecting fast-moving products. The amount you earn depends on the value of the products you promote. Expensive products attract higher commission than cheaper products.