No city break would be complete without sampling the local cuisines, gauging on delicious street food or sipping down some of the finest beverages. With so many of the world's cities serving up such culinary perfection, it's quite easy to feel overwhelmed on decision for places to eat and drink. That's why we set out to put together a list of some of the best places to indulge your palette and satisfy that rumbling gut!

Paris
The beloved capital of France: home to the Eiffel Tower, La Louvre, Moulin Rouge, Arc de
Triomphe and Notre-Dame, but also one of the highest concentrations of the most delectable ailments in the world, serving up dishes such as Duck Confit (crispy pan-fried duck with garlic potatoes), jambon-beurre (traditional Parisian sandwich), Rhum Baba (vanilla and rum cake) baguettes, cheeses, croissants, pain au chocolat and macarons. It's no secret that the French are also lovers of snails and frogs leg meat! As well as true connoisseurs of sweet and dry, aromatic wines which have a tendency to go perfectly with every meal.
The only downside to Paris is the fact that it can be a very expensive – so it's worth utilizing the street vendors for a sweet or savory crepe, or some famous Parisian ham and eggs to keep those hunger pains at bay, whilst you explore and lap up the atmospheres of this magnificently 'merveilleux' city!
Florence
Florence is one of the most visited places in Italy. Renowned for famous landmarks such as
Michelangelo Hill, Duomo, Palazzo Vecchio, and the Cathedrale di Santa Maria del Fiore, this historical city (also known as "cradle of the Renaissance") is something of a legend for its production of possibly the best olive oil in the world, as well as the tastiest and most authentic Florentine-style dishes, including Crespelle alla Fiorentina (Italian stuffed crepe with ricotta cheese), Fagiuolo (beans in tomato sauce with fragrent sage), Piselli Alla Fiorentina (boiled green peas with bacon, garlic and olive oil), Zuccotto (thinly sliced cake with ricotta cheese and candied fruit), Gelato (ice-cream), Pana Cotta (trifle-like desert) and a street corner favorite – Trippa & Lampredotto (meat-based street food. Like France, Italians are one (if not the) biggest wine drinkers in the world, so you can be guaranteed whichever bottle gets cracked open first, is going to be a palette pleaser before the contents has even had a chance to touch your lips!
Tokyo
Japanese food culture has exploded into Western culture the last few decades. You'll never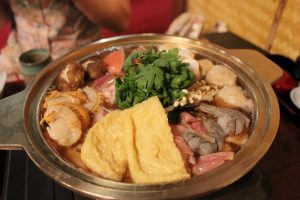 find yourself in a popular city without finding an Asian infusion hiding on a street corner somewhere. But the dishes we eat in our homelands are of no comparison to the traditional food served up in its original birthplace.
If you ever plan a visit here, you will be greeted with far more than a sushi roll and miso soup! REAL Japanese cuisine consists of things like Chankonabe (chicken and vegetable hot pot), Unagi (deep-fried eel), Monjayaki (type of runny pancake), and Tsukudani (small pieces of food preserved in soy sauce and saki). No eating mission would be complete here, without washing it down with a glass of Saki (rice-based alcohol). On a budget? The city also has actual food vending machine restaurants where you can get entire meals at the push of a button too! Typical, quirky Tokyo!
Bangkok
One of the biggest tourist capitals of the world. Bangkok being one of the central points for
travelers flocking to its neighboring countries; Vietnam, Cambodia and Laos, is one of the destinations in South-East Asia where delicious street food plays a significant role in most people's diets and their culture as a whole. Street food is also very inexpensive and usually of exceptional quality, that would make you even question stepping inside an actual restaurant here!
Some of the most popular dishes being served are your typical stir-fries with rice or noodles, Thai curries like Pad Thai, hot soups such as Tom Yum Goong, specialty grilled meats, green papaya salads and then of course – your slightly more 'exotic' eatables in the form of deep-fried locust and crickets, silk worms, giant water bugs and even bird nest soup! There is a reason Thai people are considered some of the most resourceful on the planet!
Barcelona
The pioneers of Paella! Barcelona have always been notorious for their exquisite Catalonia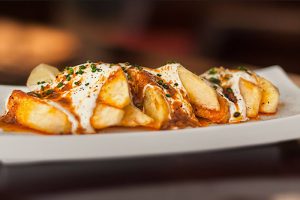 cuisines and succulent Tapas; packing in the most amazing flavors and spices and turning even the most boring of dishes into something you would happily order in a Michelin-style restaurant.
So what kind of Mediterranean delights can you expect to try here? Some of the most popular and iconic foods you'll find in Barcelona are: Patatas Bravas (deep-fried potato cubes in spicy red pepper and tomato sauce), Bunyols De Bacalla (garlic and parsley cod fritters), Escalivada (roasted Mediterranean vegetables topped with anchovies) Pa Amb Tomaquet (bread with tomato). Believe it or not, the Spanish are just as big on their snails as the French too! So make sure you try a delicacy called "Cargols" if you're feeling a bit daring and fancy something more authentic.
Copenhagen
Not only is the Denmark capital famous for its scenic harbor, beautiful architecture and
huge array of museums – it is also home to 15 of the finest Michelin star restaurants (more than any other Scandinavian city) as well as several other high-end restaurants serving up conventional gourmet and Nordic street food.
Some of the most common dishes you can look to sample here are: smørrebrød (traditional open sandwich), Fiskefrikadeller (Danish fishcakes), Pølsevogne (hotdog with bread and mashed roots) Sol over Gudhjem (buttered rye bread topped with smoked herring) and Koldskål (sweet, lemon-flavored dairy, sometimes served with biscuits). You'll also find an abundance of perfectly cooked meats throughout this city, and at Christmas time – the markets are always selling seasonal Danish treats and drinks such as, honninghjerte (Christmas honey heart), grød (porridge), as well as Danish chocolate, jelly, cookies and dark lagers.
Mumbai
Curry and spice fanatics will feel right at home in here! When it comes to Indian cuisine, 
this place is the Bombay King, as Mumbai literally translates into "Bombay". It's also one of (if not the) most populated city in India with approximately 12.4 million residents, which also means there are a multitude of mouth-watering eating options!
From famous gourmet-style dishes such as Vegetable Pulao, Moong Dal Kichdi, Batayache Kaap, Kamag Kakri, to freshly-caught seafood including tisrya masala, fish thali, and bangda tikhale are just some of the things you can expect to be served up in the restaurants here.
But when it comes to scrimping on the wallet or needing something on the go – the local fast-food (also known as Chaats) is outstandingly tasty. Vendors cook up crispy snack items filled with various meats and vegetables filled with yogurt, spices, onions, fruit, potatoes and much more. To curb a sweet tooth craving, kulfi, gulab jamuns, laddoo and chirota are all perfect ways to end any Maharashtrian meal or eating experience!
Singapore
Foodies and noodle wackadoos will absolutely love Singapore for their diversity in Chinese,
Malaysian and Indonesian-inspired cuisines. The locals themselves are said to be almost obsessed with cooking, and it has been marked down as one of the best locations to visit in Asia when it comes down to, quality, variety and price, in both restaurants and on the streets.
Laksa (curried noodles with meat or vegetables) is one of their main delicacies, along with Hup Hong (silky chicken rice), Char Kway Teow (rice noodles with egg, Chinese sausage and blood cockles), Wanton Mee (Cantonese dumplings), Orh Luak (oyster omelet), and Yong Tau Foo (stuffed bean curd). Like any place of the Orient, Singapore is also very well-known for their crispy roasted meats including duck, pork and chicken which can be found in practically all restaurants. To finish off, you can expect to indulge in a variety of sweet and savory desserts, such as: Durian Pengat (fruit cooked in coconut milk and sugar with syrup and croutons), Pulut Hitam (coconut milk, pandan leaves and palm sugar with black rice), Tang Yuan (black, sesame-stuffed rice balls with peanut), and Pandan Chiffon Cake (green, Chinese cake made with coconut milk.)
Vancouver
Although Canada's next-door neighbor is (without a doubt) one of the ultimate places on
earth to get a food fix of anything imaginable, the city of Vancouver has a very epic, culinary charm about it too! They're not just serving up any old maple syrup with pancakes either – surprisingly they are quite well recognized for their own take on many Chinese and Japanese dishes including, Ramen, Dim Sum, Sushi Rolls and their own famous Canadian-Japanese hotdogs (teriyaki sauce, miso, wasabi and kimchi).
What they are REALLY illustrious for, is Poutine. Even though it originated in Quebec, Canadians are absolutely mad for it! Poutine consists of French fired topped with cheese curds, brown gravy, and then whatever toppings you desire. Usually the options are pulled-pork, bacon, tofu and tons of cheese. Smoked salmon is also a huge fad in Canada and can be found practically anywhere, along with Bannock (griddled biscuit-type bread), and Nanaimo Bars (three-layer varied desserts usually with crumble-wafer bottoms, custard-flavor butter icing middle and a chocolate top.)
Cape Town
Cape Town is quite literally a carnivore's dream. They are crazy about their meats in the
South African capital. Some of their most famous dishes are: Gatsby (deli-style sandwich stuffed with French fried, a variety of meats, cheese and egg), Biltong (salt-dried meat; beef, kudu. ostrich or rhino), Boerewors (thick, braaied sausage), Chakalaka (South-African curry made with cauliflower, chillies, green peppers, giner, garlic and onion with various meats.), Sosaties (traditional marinated kebabs), Bokkoms (salt-strung mullet or fish dried out and smoked) and Waterblommetjiebredie (South-African meat stew with pondweed).
When it comes to pudding, the Capetonians sure know how to satisfy our sugar cravings! Malva Pudding is a tradition here (sweet and spongy apricot pudding with jam and cream sauce), Koeksisters (twisted, deep-fried pastries with syrup), Melktert (milk-based tart with sweet pastry crust and creamy filling).
Conclusion
Of course, it's no secret that you will be able to find the same standard and varieties of different cuisines in any major city you visit in this world, but the above are known for providing the best of the best, not just in terms of flavor or quality, but the entire dining experience as a whole. So much, it is likely that you will never want to order from you standard Chinese take-out or Indian again once you've visited some of these destinations! Many of the dishes as we know them, are often cooked and prepared completely differently in the places they originate from, as opposed to how they are served to us in our own home countries. That on its own, should be inspiration and a key reason to go and find out exactly what the real deal tastes like – don't you think!?
Disclaimer: All images are copyright to their respective owners and are used by USA Online Casino for informational purposes only.