Although the likelihood of being involved in a roller coaster incident is about 750 million to 1, it's the idea itself that people tend to get high off when looking for an intense or hair-raising experience. While there are 100s of theme parks around the world, so we decided to narrow it down to 10 of the most terrifying and unique ones you can ride to your heart's content!

Millennium Force – Sandusky – Ohio
Millennium Force is not just an adrenaline-fueled experience, it also boasts breath-taking views of Lake Erie during the first climb! Just as you begin to take in the natural and beautiful surroundings, you then find yourself being catapulted into a 300-foot drop with a top speed of 93mph, followed by a series of overbanked turns, two tunnels, and four hills. At one point, Millennium Force was briefly classed as the tallest and fastest rollercoaster in the world, before the Steel Dragon 2000 took its place later that same year.
Formula Rossa – Ferrari World – Abu Dhabi
It's only natural that the official fastest rollercoaster on the planet would be sat inside the Ferrari World amusement park! At 240km/h (150mph), the rollercoaster uses a hydraulic launch system to get up to top speed within 5 seconds. This creates a force during the acceleration of 1.7g and up to 4.8g throughout the entire ride –something riders can certainly feel during the experience. This also means everybody must wear protective glasses in order to avoid impact with small bugs and other airborne debris.
Space Mountain – Disney World – Florida
There are 5 different Space Mountain rides at the Magical-kingdom amusement parks throughout the world. But if you're looking for the biggest and scariest one to ride, you'll want to hit up the very first of its kind in Disney World, Florida. The rollercoaster operates inside a giant pitch-black dome which sees guest board rocket trains before being hurled off into an adventure through time and space. Although the top speed of this ride is only 28mph, it contains a plethora of turns and twists that will make you feel you're going triple the speed –especially in the dark!
The Smiler – Alton Towers – UK
Smiler first opened in 2013, and was the first rollercoaster experience to feature 14 inversions, giving it the world title. The train (rollercoaster) powers through a series of corkscrew loops at an incredible momentum before stopping halfway in "The Marmilizer" – a mind manipulation system complete with flashing LEDs, rotating brushes and "joy serum" are all thrown at the riders to remind everyone to hold onto their sanity. The Smiler replaced Alton's "Black Hole" in 2013, and is now one of the most popular rides in the park, alongside the park's very first and oldest rollercoaster, Oblivion.
T Express – Everland – South Korea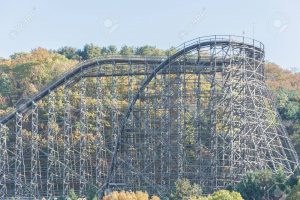 With the current political state of South Korea, it's hard to believe people are actually allowed to partake in such activities, at least where the locals are concerned. But, for visitors, rollercoasters aren't prohibited at all, and the dictated country is actually home to one of the best in the world! The T Express is the nation's first ever wooden rollercoaster and was the first ride of its type throughout the whole of Asia. It features three trains, and reaches a speed of 104km per hour with a 77-degree angle.
Bizarro – Six Flags – Massachusetts
Tucked away in Six Flags Great Adventure park, this ride made its debut in 1999 as the "Medusa" and was also known for being the world's very first floorless rollercoaster. However, in 2009, some of its tracks were repainted and some other visual elements added to correlate it with Superman's arch enemy. Hence why the name became rebranded as Bizarro! In terms of layout, you can expect to be propelled down a 132-feet drop at 98km/h, along with interlocking corkscrew turns, diving loops through rings of fire, and a vicious 78-foot cobra roll.
Leviathan – Canada's Wonderland – Ontario
You'll find the Leviathan within the Medieval Faire section of Canada's most famous adventure park. It reaches 306-feet tall at a speed of 148km/h making it the tallest and fastest rollercoaster in the entire country, and the 9th tallest rollercoaster in the world. The steel track is over 1,672 metres in length with the first descent at 80 degrees. You'll also experience a series hammerhead turns and smaller drops before a sharp brake back into the staton.
Phantom's Revenge – Kennywood – Pennsylvania
Previously known as the "Steel Phantom," this ride is situated in the Kennywood theme park and featured the longest drop than any other roller coaster in the world when it first opened in 1991. It features three inversions, a batwing, corkscrew and vertical loop, and has made it into the top 50 annual Golden Ticket awards every single year since 2000, as well as being ranked top 5 by the National Amusement Park Historical Association.
Takabisha – Fuji-Q Highland – Japan
Takabisha –which translates into English as "high-handed" or "domineering" –is a steel rollercoaster located in the amusement park Fuji-Q Highland in Yamanashi, Japan. When it first launched in 2011, it was regarded as the steepest rollercoaster in the world because of its 121 degree angle drop. It features a pitch black decent into darkness before a steady heart line roll. After that, it is flung into a long tunnel at 62mph, before reaching a series of banana rolls, corkscrews and airtime hill inversions, followed by several dive and inline loops.
Fury 325 – Carowinds – North Carolina
Opened in 2015, Fury 325 is situated in the Carowinds amusement park in Charlotte, North Carolina. Its theme is a hornet, taking inspiration from the American Revolution, when Charlotte was dubbed "a hornet's nest of rebellion." The ride itself features a 325-foot chain lift hill, followed by an 81-degree-angle drop, reaching speeds of 95mph. After the drop, riders are flung into a high barrel turn. It then hits a high-speed s-curve, followed by a horseshoe bend, and ending with a camelback hill. Fury was voted as the best steel roller coaster for three consecutive years in Amusement Today's Golden Ticket Awards, ending the Millennium Force's six-year run.
Conclusion
Would you believe that much of the fear factor in rollercoaster experiences isn't actually the speed itself, but rather the psychological aspects? Close encounters with obstacles, different terrains, high-speed turns and drops are all specifically designed and engineered to make riders feel like they are purposefully losing control and on the brink of death! As much as we would love to try out each and every one of them, we think we'd end up with vertigo or some form of acrophobia if we did! But judging by the experiences and reviews of seasoned amusement-park junkies, these are the high-speed trains you want to be hitting up if you're on the hunt for an adrenaline fix!
Disclaimer: All images are copyright to their respective owners and are used by USA Online Casino for informational purposes only.