First dates are never easy, and they can be especially challenging in Las Vegas where the dating scene is geared more toward casual hookups than toward true romance. However, if you are taking the perfect girl out for the first time, there are still some wonderful spots in Sin City that are just ideal for getting to know that special someone a little better. Here are some top ideas for places to take your date:

Coffee and A Stroll
When you are serious about getting to know someone, there is no better way to chat than over a steaming cup of coffee made from organic beans. Take your special someone to Sunrise Coffee where you can find out everything you need to know about each other before crossing the street to take a stroll in Sunset Park, complete with ducks, swans, geese, and a beautiful pond. What could be more romantic?
Get Playful at Gold Spike
If you struggle to break the ice on a first date, why not try something completely different and head to Gold Spike? You can have a drink or two at the bar and then play a few games of giant chess, foosball or Jenga, which will help you to get over any awkward pauses in the conversation that can plague those early dates. You will both have a lot of fun and maybe find out a bit more about each other's competitive side.
Impress with Afternoon Tea
If you are really keen to impress that sophisticated girl, afternoon tea at the Mandarin Oriental could be the ideal first date. Located right in the heart of The Strip, the Mandarin Oriental is an elegant spot with a Tea Lounge on its 23rd floor that serves a classic English-style afternoon tea. There is no better way to get to know someone than over plates of neatly cut sandwiches and tasty bite-sized cakes.
First Date on A Budget
If you want to have the iconic Vegas experience on your first date but you are on a budget, head to the Bellagio where you can stroll hand in hand through the Conservatory and Botanical Gardens without having to pay a cent. Then, you can watch the iconic fountains, also for free. If your budget can stretch to it, take your date to the Bellagio Gallery of Fine Art and admire the exhibits that have come from museums from around the globe.
Have A Romantic Dinner
If you can't stretch to taking your date to experience the romantic atmosphere of Paris, why not experience the next-best thing at the Paris Las Vegas Eiffel Tower restaurant. Enjoy panoramic views of The Strip and Bellagio's fountains through the full-length windows as you enjoy a world-class meal. You won't fail to impress.
Have A Magical Experience
If you are looking for something a little different for your first date, head down The Strip and take in a magic show. As the world's magic show capital, you're bound to catch a thrilling performance here, whether you go with one of the classics or something new and cutting edge. Alternatively, if you can afford it, why not splurge on one of the Cirque de Soleil shows? Yes, they're expensive but they are a great way to spend a couple of hours with some amazing entertainment.
Have an Adventure
If your date is the adventurous type, take a trip out to Lake Mead where you can go kayaking to Emerald Cave. There you can admire the amazing brilliant green water or take a zip-line tour over Bootleg Canyon – an exhilarating 1.5-mile trip over the Red Mountains.
Make an Escape Together
If you want to find out about your date's personality fast, the best way is to find out how she behaves under pressure. What better way to do that than by trying out an escape room together? There are plenty in Vegas to choose from. So, whatever theme you choose, whether it is a horror/zombie thriller or something a little less terrifying, you're sure to find something that will keep you both entertained at Escapology, ESCAPEability or Lost Games.
Have A Sweet Experience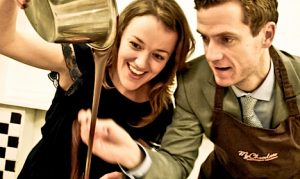 The way to a girl's heart is with a sweet treat, so why not arrange a first date at the Hexx Kitchen + Bar. This restaurant in the Paris Las Vegas hotel offers a chocolate-making class that gives you the chance to sample the tasty results. Afterward, go out onto the patio for some drinks and snacks while you watch the Bellagio fountains.
Take A Wine Tour
Although it is hard to believe that somewhere as dry as Vegas can have a wine country, it really is a thing! The Pahrump Valley Winery has a stunning estate that is beautiful to explore with that special girl, and there is also a classy steakhouse on the property that boasts impressive mountain views. Enjoy a relaxing dinner with a couple of glasses of the local wine and have a lovely experience.
Head Off-Strip
Although The Strip might be the obvious choice when it comes to finding the perfect place to take your date, there are plenty of great things to see downtown as well. Head to Mondays Dark and see a fantastic variety show featuring musicians, performers or other famous personalities at a much more affordable price than any of the shows on The Strip.
Take A Gondola Ride
It might be a bit cheesy and cliched, but who wouldn't be impressed by a romantic gondola ride? Even if you can't afford to go to Venice with your dream date, you can still ride the waterways between the Palazzo and the Venetian, floating dreamily under balconies and bridges, while enjoying a serenade from the gondolier – an unforgettable first date experience.
Whatever you choose to do with your date, you can be sure that there are plenty of unforgettable experiences to enjoy in Las Vegas. The only question will be where will you take her on your second date?
Disclaimer: All images are copyright to their respective owners and are used by USA Online Casino for informational purposes only.