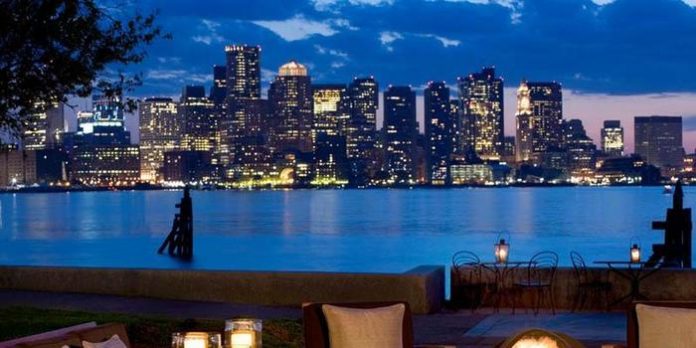 A lot of things come to mind when you think of Boston. The Sons of Liberty dressed as Indians dumping an entire shipment of tea sent by the East India Company into Boston Harbor, an act that helped ignite the American Revolution.
The infamous Battle of Bunker Hill in which the British red coats charged hastily built American positions at the top of the hill. With the revolutionary Army short of ammunition, the charge led Commander William Prescott to issue his infamous, "don't shoot until you see the whites of their eyes" order.
Famed Irish organized crime boss Whitey Bulger and the Winter Hill Gang (the character of Frank Costello played by Jack Nicholson in the film The Departed was loosely based on Bulger, and Johnny Depp brilliantly played Bulger in the Boston set Black Mass, a role that would earn him a desert Palm Achievement Award, and numerous best actor nominations).
Fenway Park, home of the Boston Red Sox, Boston baked beans that gave the city its nickname "Beantown" and of course, gazillions of students. There are some 51 universities in metropolitan Boston, with the most famous being Harvard, Tufts, Emmerson, Brandies and Boston College.

Boston for foodies
Beyond baked beans and possibly New England clam chowder, the culinary scene in this colonial era city on the bay doesn't get a lot of hype. To accentuate the point, Boston's vibrant culinary scene doesn't merit a single 2022 Michelin star. Not because the cuisine isn't out of this world, but because the Michelin star people simply do not rank Boston restaurants.
Why it's hard to say, especially since the Michelin guide just started issuing stars in Washington D.C., a city of approximately the same size as Boston's just under 700,000 residents. Outside of Chesapeake Bay Maryland blue crabs and the fresh vegetables grown on the farms in surrounding Maryland and Virginia, in stark contrast to Boston's dynamic cultural scene, Washington D.C. has been better known for its expensive, politics infused steakhouses and wine bars than as a mecca of culinary innovation. And yet Washington D.C. picked up three two-star Michelin restaurants and 11 one-star Michelin restaurants in 2022 to Boston's zero.
With that in mind and to help you jump in to the best of the Boston food scene, we've put together a list of exceptional restaurants that we believe should merit a 2022 Michelin star in Boston, were the Michelin critics ever to pop by Beantown and take the time to do some tasting…
Guide to the best "should have" a Michelin star restaurants in Boston 2022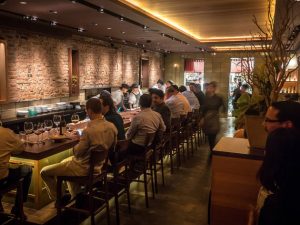 O Ya Restaurant
Website –  Visit Now
Type – Suchi & Omakase
Price range –  $185 – $250
District – Downtown Crossing
Address – 9 East St
Boston, MA 02111
First opened in 2007 and named the best new restaurant in the nation that very same year by the New York Times, O Ya has long been lauded as simply the best place to try omakase in the United States. Owned and operated by chef Tim Cushman and his wife Nancy, dinner at this small, intimate, yet surprisingly casual Japanese themed venue is probably the most fun your palate can have in one sitting while handing over a sizable chunk of your month's salary.
The small, elegant dishes at O Ya take both freshness, technique and balance to a whole new level. You'll find truffles, gold leaf and caviar on the menu too, among tea marinated port ribs (steeped for 23 hours), wild spot prawns, sesame-chicken-skin nigiri, and balsamic chocolate kabayaki to name just a few of the wondrous creations that stem from chef Cushman's deep love of Japanese cooking.
Menton Restaurant
Website –  Visit Now
Type – Modern fine dining
Price range –  $68 – $185
District – Fort Point
Address – 354 Congress Street
Boston, MA
Opened in 2010 in the Fort Point neighborhood known for its amazing mix of old and new architecture, Chef Barbara Lynch's take on fine dining fits in perfect with the surrounding urban cityscape. As the only female chef to hold the prestigious title of Grand Chef Relais & Châteaux in the United States, you can be sure that her mix of only the best seasonal ingredients and her take on classics such as pan seared halibut with beurre blanc, garnished with swiss chard caviar, to tajarin, a Piedmont classic, with black truffles and parmesan, will rock your world.
Menton's accolades are long and many including being awarded 4-stars by the Boston Globe, Esquire and Bon Appétit magazine's best new restaurant in 2010, and is the only Forbes Travel Guide and Relais & Châteaux five-star property in Boston.
For a special treat you can reserve the Chef's Table, with a full view of the open kitchen. Seating 12, it allows foodies an up close and personal look at the love and mastery that go into preparing her magnificent dishes.
L'Espalier Restaurant
Website –  Visit Now
Type – New England – French
Price range –  $68 – $208
District – Back Bay
Address – 774 Boylston Street
Boston MA
Opened in 1978 in the hip and trendy Back Bay neighborhood, L'Espalier is the creation of author, proprietor, now farmer and life-long chef Frank McClelland. With a focus on a New England take on traditional French cuisine, L'Espalier was the first restaurant to bring haute cuisine to Boston. Offering a clean, well lit, airy elegance, the white plates presentations are as much a pure visual sensation as a culinary delight.
Applauded by the Boston Globe with four stars, their critic's highest accolade, L'Espalier is the only restaurant in New England to have received 19 consecutive AAA Five Diamond Awards.
Chef McClelland currently offers both 5 and 8 course tasting menus and well as a chef's table in the light, crisp and beautiful 90 seat dining room.
Yvonne's Restaurant
Website –  Visit Now
Type – Modern world cuisine, with flavors of the Far & Middle East, Mediterranean and Europe
Price range –  $30 – $110
District – Financial District/Downtown Crossing
Address – 2 Winter Pl,
Boston, MA 02108
Eclectic and stunning, Yvonne's specializes in shared plates for groups in an atmosphere that feels like an eccentric aristocrat's private library and gallery. Pseudo kitsch portraits of celebrities from JFK to Clint Eastwood hang in the three main dining areas, the library, longue and supper club, and decadent chandeliers rain subdued light from a mahogany welled ceiling.
Yvonne's started off 1862 as Locke-Ober, originally a small subterranean café that grew into an elite Boston supper club known for wild parties, ultimate discretion and global food. All these traditions Yvonne's carries on to this day with a distinctly modern flair.
The menu has been designed by Chefs Tom Berry and Juan Pedrosa and takes its inspiration from around the world, actively incorporating flavors from Europe, America, the Mediterranean, the Far East and Middle East to produce an exquisite intermingling of history, tradition, cosmopolitanism and contemporary taste sensations.
Deuxave Restaurant
Website –  Visit Now
Type – French
Price range –  $30 – $100
District – Back Bay
Address – 371 Commonwealth Avenue
Boston, MA 02115
In a phenomenally light space, at once vibrant, refined and elegant, Deuxave brings the farm to table movement to Boston inspired traditional French cuisine. Using only the freshest local ingredients produced by local farmers, foragers and fisherman, Chef Chris Coombs infuses Deuxave with the very essence of seasonal cooking with a presentation alone that is a sensory delight.
Balanced, delicate and refined are the first words that comes to mind as the impeccable wait staff bring out dish after dish that look as if they were created by a master painter and taste of the divine.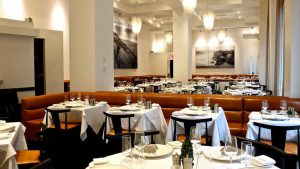 Ostra Restaurant
Website –  Visit Now
Type – French-Mediterranean sea food
Price range –  $30 – $155
District – Back Bay
Address – One Charles Street South
Boston, MA 02116
Opulent yet light, with simple lines, high ceilings, a marble bar, saddle leather banquette seating and monochrome ocean photography, Ostra in no ordinary Contemporary Mediterranean seafood restaurant. Created by chef Jamie Mammano, Ostra specializes in fresh, natural flavors straight off the boat to your plate. Yellow fin tuna, sea bream, salmon, lobster and caviar can be indulged in as the champagne flows.
First opened in November 2013, Ostra is more of a place for a massive seafood celebration than a casual bite to eat. While it isn't cheap, the exceptionally high-quality fresh seafood combined with the delicacy of the ambiance more than offsets the price.
Honorable Mentions
Other notable fine dining establishments in the Boston area include Mama Maria, a moderately priced, warm, welcoming and intimate Italian joint that has received a four-diamond rating from the AAA travel guide.
Sorellina, another of chef Jamie Mammano's creations and member of the Columbus Hospitality Group, serving up Italian- Mediterranean cuisine with an emphasis of local sourced ingredients and the best Italy has to offer.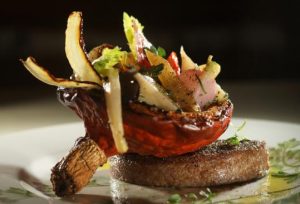 Bondir, a farmhouse style restaurant in Cambridge that specializes in what chef Jason Bond calls "Cambridge Cuisine", i.e. food produced in New England style taking advantage of the rich organic farmlands across the six New England states. Small, cozy, intimate and hip, Bondir is the result of 20 years of study and refined technique on the part of chef Bond, who believes in the simple creed of quality and care.
The next time you're in Boston and feel like checking out a 2022 Boston Michelin star restaurant, even though they have no Michelin stars yet, check out one of the amazing places above that are sure to dazzle your senses in all the right ways.
Conclusion
So there you have it, a far from comprehensive list, true, but definitely some of the amazing selection of Michelin star restaurants in Boston that have yet to but most definitely should receive a visit from the Michelin folks.
Disclaimer: All images are copyright to their respective owners and are used by USA Online Casino for informational purposes only.