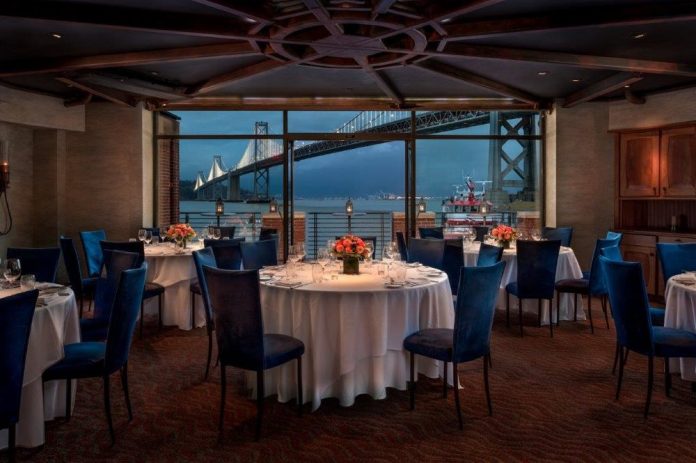 San Francisco, SF, the City by the bay, has long been as famous for its incredible array of dining options as it is for its Golden Gate Bridge and cable cars.
From the straight out of Oaxaca ethnic Mexican cuisine of the Mission District, to the fresh off the boat sea food of Fisherman's Warf, San Francisco's Pacific Rim location has long made it a melting pot of mixed tastes and sensual delights.
Add to that the howling vibe rooted in the Beat generation in North Beach, throw in a hearty dose of techno yuppie hipster foodieism, mix well with the traditional elitism of Nob Hill and the Presidio, throw in a tea spoon of ageing Height-Ashbury hippieism, add a cup full of China Town, a dash of South of Market alternative swing, a sprinkling of South Beach cool, a pinch of Castro flair and it's easy to see why, with such a cornucopia of ingredients to work with, San Francisco attracts some of the most creative and innovative chefs in the world.

An oasis of culinary innovation
By definition San Francisco is a culinary aficionados dream, the ultimate melting pot of diverse tastes and Avant-guard styles.
At the edge of a continent heavily influenced by its Spanish traditions, South and Central American immigrant culture, Japan and the Asia-Pacific region across the sea, and the history of America's westward expansion, San Francisco presents itself as an open oyster does a pearl when it comes to creativity in fine dining.
Thanks to the lushness of the vast agricultural region of the Central Valley to the East and its bountiful harvests, Napa and its vineyards to the North, the luxuriant Santa Cruz mountains to the South West and bounty of the Pacific Ocean to the West, few cities could be better placed to offer up the ideal palette of fresh ingredients to fuel a master chef's wildest creations.
San Francisco – The city with the most three Michelin star restaurants in the world
Boasting 41-one, 7-two and 7-three Michelin star restaurants among an amazing wealth of other culinary delights, San Francisco's eclectic nature, vibrancy and diversity are all reflected in the quality of its cuisine. As a center of art, culture and innovation, the City presents itself as a stage upon which some of the most cutting edge culinary masters of our age compete to titillate the taste buds of restaurant goers from all walks of life.
Of course, Michelin stars equate to exceptional quality and the choices of Michelin star restaurants in SF are simply amazing. From small, intimate bistros and posh, exclusive clubs to avant guard eateries designed to bring high culinary culture to the masses, the City's Michelin starred restaurants offer up a smorgasbord of choices.
Here is your guide to the best Michelin star restaurants in San Francisco 2018
3 Star Michelin Restaurants
Benu Restaurant
Type – New American cuisine
Price range – Tasting menu $295
District – SoMa
Address – 22 Hawthorne Street
San Francisco, CA 94105
After nearly a decade of tutelage under Thomas Keller at the three Michelin star Napa Valley restaurant The French Laundry, Corey Lee opened Benu in 2010 in the South of Market district of San Francisco. This three-star Michelin restaurant in SF is known for its elegant New American cuisine, which offers up a delicate mix as diverse as America itself, influenced by both Cantonese and Korean culinary traditions.
The restaurant is designed in a Zen-like, minimalist style and provides diners with a 19-course tasting menu Tuesday – Saturday, featuring a wide selection of seafood and vegetables, a sprinkling of meat courses and a light selection of sweet dishes.
Coi Restaurant
Type – California-French
Price range – Tasting menu $250
District – North Beach
Address – 373 Broadway
San Francisco, CA 94133
Awarded three Michelin stars in 2017, chef Erik Anderson offers up a seafood based, 11-course tasting menu in which each plate is a masterpiece in and of itself.
Noted for its impeccable service and delicate, lightly subdued atmosphere, Coi, which is part of the Daniel Patterson Group of restaurants, brings diners a relaxed California ambiance mixed with all the refinement of French colonial South East Asia.
Manresa Restaurant
Type – New American
Price range – Tasting menu $275
District – Los Gatos
Address – 320 Village Lane
Los Gatos, CA 95030
Founded in 2002 by David Kinch and named the best restaurant in the United States by Forbes magazine, Manresa was awarded three Michelin stars in 2017.
A famed farm-to-table restaurant that deploys only the freshest local ingredients, Manresa professes to New American cuisine which draws its influences from Knich's time in some of the world's most prestigious kitchens; Hotel de la Poste and l'Espérance (France), Akelare (Spain), the Schweizer Stuben (Germany) and Maurice Restaurant at Hotel Parker Meridien, La Petite Ferme, and The Quilted Giraffe (New York).
Quince Restaurant
Type – California contemporary
Price range – Tasting menu $275
District – Jackson Square
Address – 470 Pacific Avenue
San Francisco, CA 94133
After picking up its first Michelin star in 2007, a second San Francisco Michelin star in 2014 and a third Michelin star in 2017, husband and wife Michael and Lindsey Tusk have steered away from traditional Italian food into contemporary California cuisine, offering up a phenomenal selection of superbly executed, locally sourced dishes.
Saison Restaurant
Type – American
Price range – Tasting menu $398
District – SoMa
Address – 178 Townsend Street
San Francisco, CA 94107
Featuring cuisine centered around an open wood fire, Sasino's 22-course tasting menu is focused on evoking specific tastes from locally sourced wild foods that reflect the microclimates in which such foods were grown or raised.
Having become a SF three Michelin star restaurant in 2014, Saison is owned and operated by chef Joshua Skenes and sommelier Mark Bright.
The French Laundry Restaurant
Type – French
Price range – over $300
District – Napa
Address – 6640 Washington St
Yountville, CA 94599
Owned and operated by chef Thomas Keller, the three Michelin star restaurant The French Laundry was officially dubbed "the best restaurant in the world, period" by The New York Times. The French Laundry offers two, 9-course tasting menus that promise to never use the same ingredient more than once and draw on the contemporary American influences on French cuisine.
The Restaurant at Meadowood Restaurant
Type – Californian
Price range – $275-$500
District – Napa
Address – 900 Meadowood Lane
St. Helena, CA 94574
Located at the Meadowood Golf Club in the idyllic Napa Valley, The Restaurant at Meadowood is a cosy yet posh three Michelin star fine dining establishment known for only showcasing the highest quality, locally sourced ingredients.
2 Star Michelin Restaurants
Atelier Crenn Restaurant
Type – French
Price range – $325
District – Cow Hollow
Address – 3127 Fillmore Street
San Francisco, CA 94123
Utilizing an intimate, 8-table dinning room to present her "poetic culinarian" cuisine, two Michelin star chef Dominique Crenn presents a multi-course tasting menu that focuses on creative French cuisine that is known to be some of the most visually, textually and conceptually cohesive in the world.
Lazy Bear Restaurant
Type – French
Price range – $325
District – Mission District
Address – 3416 19th Street
San Francisco, CA 94123
With two seating's per night at long, wooden communal tables, the two Michelin star Lazy Bear accentuates the simpler side of elegance that takes the stuffiness out of fine dining. Intended to replicate a dinner party atmosphere, the Lazy Bear views fine dinning as a social as much as a culinary experience.
Commis Restaurant
Type – New American
Price range – $159
District – Oakland
Address – 3859 Piedmont Avenue
Oakland, CA 94611
After earning a second Michelin star in 2015, Commis has gone on to become one of the most sought after, moderate fixed-price dining experiences in the Bay Area. Intimate and elegant, the 28-seat dinning room offers up a simple chic that is accentuated by the artistry of the dishes prepared in the open kitchen.
Disclaimer: All images are copyright to their respective owners and are used by USA Online Casino for informational purposes only.