Robbers have used some creative ways to hide their identities when committing crimes. From Halloween masks to pantyhose to waiting in line as a bank customer only to rob the teller at the window, robbers are known for hatching plans that are designed to help them get away with the money they're after. Of course, these criminals also try to hide who they are in case they are being recorded by video surveillance and don't want to be seen stealing money or carrying a weapon.
However, one Las Vegas criminal used an especially deceitful and, eventually, ineffective method to disguise himself during a robbery, and it helped lead to his arrest.
Cameron James Kennedy, who'd recently served a prison sentence for bank robbery, has now been charged with armed robbery after wearing a "blackface" to rob a casino on the Las Vegas Strip of $23,000, where he forced a cashier to give him the funds.
The cashier, who worked for the New York-New York resort, was not injured in the robbery, which took place in January.
When Kennedy entered the scene of the crime, he told the cashier to give him "all hundreds, and don't mess around." He then left the resort in a cab with the $23,000 he stole.
It is apparent that Kennedy painted his face to appear as an African-American man. The cashier was behind a cage when Kennedy came onto the premises and demanded money, but she could see the alleged robber was wearing makeup. Early reports described Kennedy as an African-American male. However, the cashier noticed that his skin was blotchy, and she knew that something was "off."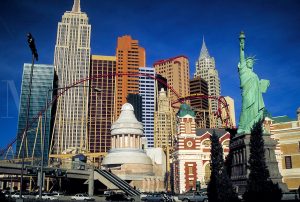 Kennedy was obviously pleased with his heist and thought he had gotten away with it. Because he was feeling a bit confident after stealing the money, he made a few significant purchases, and this may have led to his capture. Kennedy went on a shopping spree soon after the robbery. According to court reports, the ex-con purchased a $1,500 gold bracelet and $1,800 worth of money orders. He also used another person's name to buy a $1,000 prepaid debit card.
Kennedy, a 26-year-old Las Vegas resident, is now facing robbery charges and up to 20 years in prison for this latest heist. He was identified by his gold teeth, an anonymous tip confirmed. An unidentified witness also told the FBI that Kennedy purchased a $1,000 prepaid debit card for him a few weeks before the heist.
This individual stated that Kennedy seemed to have wiped a makeup-like substance from his face that was darker than his natural skin tone before coming into the man's apartment a few hours after the robbery on Jan. 10, according to documents submitted to the court. Kennedy appeared in U.S. District Court in Las Vegas where a judge ruled that he be held in federal custody until his hearing, which was to be March 26.
Tiffany Nocon, the deputy federal public defender assigned to Kennedy's case, didn't respond immediately to a telephone message seeking comment.
According to the criminal complaint, Kennedy was freed from prison last July after serving more than five years for two bank robberies that occurred in 2012.
Kennedy was also under house arrest pending a hearing concerning a check he'd forged in December, which violated his supervised release. He is accused of removing his GPS monitor around Jan. 9, just shortly before the heist.
After Kennedy's run-in with the police in December, the court and Kennedy's probation officer agreed to put him under house arrest. During his recent court appearance, he was required to wear leg straps to restrain his movement.
Disclaimer: All images are copyright to their respective owners and are used by USA Online Casino for informational purposes only.