David Ng Lap Seng, a Chinese real estate developer based in Macau, received a four-year prison sentence for trying to bribe two U.N. diplomats and a former president of the U.N. General Assembly. Ng was found guilty of bribery for attempting to pay ambassadors if they supported his bid to build a multibillion-dollar U.N. conference center in Macau.
Ng received the sentence in a Manhattan federal court by a local district judge. He was also ordered to give up assets worth $1.5 million that were acquired through his crimes. He was also slapped with a $1 million fine for the same offense.
Ng, who is 69, had been charged earlier, in mid-2017, of violating a foreign corrupt practices act, money laundering, two counts of conspiracy, and one for bribery.
The attempt of his lawyers to negotiate a sentence where he didn't have to go to prison fell on deaf ears. The defense had argued that the defendant was a family man and a philanthropist. This, however, did not stop U.S. District Court Judge Vernon S. Broderick from giving him the sentence, as well as a string of fines.
Broderick defended his judgment. He said the defendant did not think of the repercussions that would follow when he decided to bribe the diplomats.
"Instead, you became more aggressive," Broderick said, adding that Ng deserved to serve time behind bars.

Worst scandal since the food-for-oil program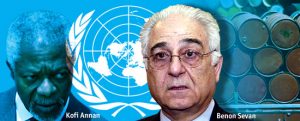 This is the worst scandal for the United Nations since the food-for-oil program that rocked the diplomatic organization to its core 20 years ago.
Since then, the agency has adopted robust policies seeking to eliminate loopholes in laws that allow these scandals to grow. The most recent scandal was in 2016.
Earlier that year, after some investigation, the United Nations uncovered some lapses and what it termed as due diligence failures in interactions with organizations that were tied to bribery schemes. The U.N. Secretary-General Ban Ki-Moon ordered a probe and subsequent report on the matter.
The prosecution had sought a longer sentence
The prosecution in Ng's case had sought a sentence of more than 6 years. He has been under house arrest since 2015.
Prosecutors claimed that, between 2011 and 2015, the defendant bribed Francis Lorenzo, the Dominican Republic's former ambassador, and John Ashe, Antigua and Barbuda's ambassador, who served as the president of the General Assembly from 2013 to 2014.
In return for the payments, the two would push through and secure the building of the conference center using Ng's company. The multibillion-dollar center would serve as a location for multiple meetings and events, including the Global South-South Development Expo.
Money laundering
The prosecution revealed how the payments were funneled through South-South News and an N.Y.-based organization that Ng had set up.
In a sensational memo written for the sentencing, the prosecutor revealed that the defendant's true purpose in funding the nongovernmental organization was for financial gain.
The prosecutor added that this is not the first time Ng has done this. He continued to do so for a long period of time before he was caught. He then claimed that it was a political move by his enemies.
On the other hand, the defense lawyer said that Ng's motivations were philanthropic and patriotic. The defense argued that, considering the time period, the economic gain, expense, and risk would have been remote and speculative.
Witnesses to the crimes
In the stands was Lorenzo, who had earlier pleaded guilty to money laundering and agreed to testify against Ng. The other possible witness against Ng would have been Ashe. However, he passed away in 2016 from injuries resulting from a barbell dropping on his neck.
Disclaimer: All images are copyright to their respective owners and are used by USA Online Casino for informational purposes only.