In a continuing crackdown on illegal gaming in the country, the Chinese government has announced another large gaming bust. Recently, the Chinese government has been investigating and arresting people involved with an online gaming ring worth approximately $1.1 billion. The Chinese government has been focused on online gaming, especially casino gaming and sportsbooks, since mid-summer, when the World Cup began.
Gaming In China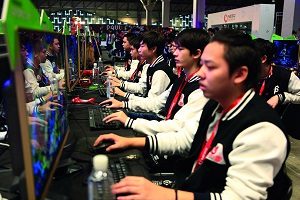 For the most part, gaming in China is illegal. China does operate two lotteries, but the Chinese government does not consider these lotteries a form of gaming. The China Sports Lottery and the China Welfare Lottery are used by the government to fund some of its programs. The China Sports Lottery is used to fund the sports programs for the nation's athletes, from the beginning of the amateur leagues, when children are first recruited for their athletic ability, to the fostering of Olympic-caliber athletes. The government feeds and houses athletes from a young age (some as young as 5) onward. Because this program costs a lot of money, the Chinese government holds a lottery to help pay for it. In addition, the government funds a Chinese welfare lottery that it uses to fund social programs for the sick and elderly in China.
The only places where gaming is legal are in Hong Kong and Macau. Hong Kong offers limited gaming opportunities, especially in horseracing. Macau has had legalized gaming since the 1850s, when it was a colony of Portugal. Casino gaming in Macau accounts for nearly $35 billion annually, which makes Macau the most important market in the world for gambling.
Illegal Gaming in China
In 2010, researchers estimated that $146 billion is spent on illegal gaming every year in China. It is estimated that over half of the money illegally spent in China was on online gaming websites. In addition, researchers have estimated that China may have such a large problem with illegal gaming because its illegality in the country makes it more appealing to players. The government banned poker apps in June of 2018, citing that they are illegal in the country because they are games that require money in order to play, as opposed to games without payment obligations. China has also banned promotion of poker applications in general on WeChat and Weibo.
The Raid
Police in the eastern Chinese province of Jiangsu acted on a tip in January of 2016 and began to look into the activities of four individuals in the province, spending months tracing the amount of money flowing in and out of their bank accounts. In the initial raid, police arrested 56 suspected gamers who were running dozens of sites in China based out of the Philippines, where most gaming is either legal or unregulated. Chinese government officials estimated that the ring had taken in over $1 billion within a few months, with a profit of $95 million. This Philippines-based platform had several gaming options for its base of over 114,000 users, including poker, casino games and sportsbooks that allowed people to bet on anything from horses to soccer to basketball. Other similar platforms, based on casino-related applications like poker, have been shut down.
The perpetrators came from Shanghai, Fujian, Zhejiang and Guangdong, while six other ethnic Chinese employees of the platform returned from the Philippines to China to turn themselves in. All 56 suspects are being transferred to Jiangsu for prosecution. In addition, Chinese police have said that as part of the ongoing probe, there may be more arrests, and more seizures of money, both electronically and in cash.
Disclaimer: All images are copyright to their respective owners and are used by USA Online Casino for informational purposes only.