Two United States senators from opposite political parties want the federal government to regain control of sports betting in America. This is the first formal congressional move after a Supreme Court ruling re-sparked a complicated debate. The controversy involves fans who were betting on sports games, and the ruling providing guidelines on who is in charge of betting action and outcomes.
States and Sports Betting
Many states now offer sports gambling after New Jersey won a long-standing sports betting battle in May 2018. Other states will likely address this issue during 2019 legislative sessions, since gambling can generate millions of dollars that can benefit citizens and government.
The federal gaming bill was recently introduced by Senator Charles Schumer (D-New York) and Senator Orrin Hatch (R-Utah). The bill would require the U.S. Justice Department to set minimum standards for states to allow sports gambling. This doesn't plainly provide sports leagues a percentage of gambling profits that the leagues have been seeking. These percentages are known as "integrity fees." However, the gambling bill doesn't specifically prohibit leagues from getting revenue.
What the Senators Are Saying
When referring to the Sports Wagering Market Integrity Act of 2018, Schumer said, "I knew that Congress had an obligation to ensure that the integrity of the games we love was never compromised." Schumer says this is why he believes "The time is now to establish a strong national integrity standard for sports betting that will protect consumers and the games themselves from corruption."
Hatch stated that when the Supreme Court denied the Professional and Amateur Sports Protection Act in May, he "began working with stakeholders to ensure we were doing everything possible to protect the integrity of sports from corruption." Hatch further explains, "The legislation we've introduced…is the culmination of eight months of high-level meetings, discussions and negotiations, and will serve as a placeholder for the next Congress, should they decide to continue working to address these issues." Senator Hatch will soon retire, and stated he wanted to show his bipartisan support for government regulation.
The NFL's and NCAA's Response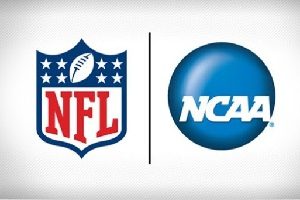 The NFL recently weighed in on the gambling bill with a letter to senators. The letter expressed the organization's support for the new bill.
Jocelyn Moore, an executive vice president for the NFL, states, "The threats posed to the integrity of sporting contests cannot be confined with state borders." Moore continues by stating, "Without continued federal guidance and oversight, we are very concerned that sports leagues and state governments alone will not be able to fully protect the integrity of sports contests and guard against the harms Congress has long recognized as being associated with sports betting."
The NCAA responded to the bill as well. The organization's statement included the following information: "With legalized sports wagering, the NCAA's main priorities are protecting student-athlete well-being and the integrity of competition. Because of this, we applaud the bipartisan support of Senators Hatch and Schumer in proposing the federal sports wagering legislation. Federal standards are needed to promote a safe and fair environment for the nearly half a million students who play college sports."
What to Expect in the Future
The gambling bill provides federal funds from sports gaming taxes for programs that will assist problem gambling.
There are currently eight U.S. states that offer sports betting. These states are still allowed to permit legal sports gambling while the Justice Department reviews state laws.
As of now, lawmakers in New Jersey, Delaware, Nevada, West Virginia, Mississippi, Pennsylvania, and Rhode Island have made sports betting legal. New Mexico has not yet passed a law concerning sports betting. However, the Santa Ana Star Casino & Hotel began taking sports bets in October 2018 by way of a tribal gambling compact.
City legislators in Washington voted to make sports betting legal in D.C. recently as well. The law requires that Congress approves the legislation. The ruling would make the District of Columbia; the first jurisdiction in the United States without a casino to legalize sports books.
There are also several states that have pre-filed bills for sports betting. These bills will likely go into effect in early 2019. These states include Ohio, Missouri, Kentucky, Tennessee, and Virginia. Sports betting tracking organization Eilers & Krejcik Gaming, projects 30 states will seriously considering legislation in 2019.
Disclaimer: All images are copyright to their respective owners and are used by USA Online Casino for informational purposes only.