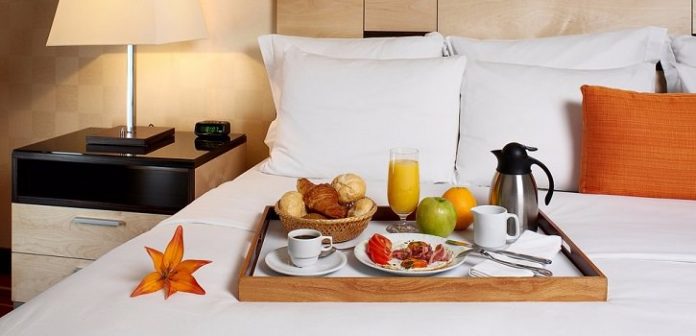 So, you have been up all night gambling, and you want nothing more than to go back to your room and crash. But you're starving. When you order room service, what exactly are you getting a luxury casino resort? Nearly all of the casinos in the United States have hotels attached to them. Hotels at casinos vary from 5 star ultra-luxurious to comfort on a budget. No matter which luxurious hotel you stay in, you need to know the ins and outs of casino room service. Need some additional information on how to get the most bang for your buck? Keep reading for some insights on how to eat well in your room after a long day of gaming.
The Freshness and Quality of the Food Decreases as Your Floor Number Increases
It is prestigious to be assigned to a high floor at a casino resort. The higher the better; however, it may not work out so well for your food. Room service orders are covered with a metal lid for warmth and protection from the errant fly or germ. The lid covers the food without venting it. Therefore, the heat gets trapped by the lid, and the steam turns into moisture. On the lower level floors, the food does not have time to soak in all of that moisture. But the higher floors take time to get to, not to mention if the waiters have to make multiple stops. At higher levels, food critics say you should advise room service personnel you want your food fresh and crisp. So, request that they bring your food up first. You could also ask to meet them in the lobby, so you can bring your food up yourself quickly. Otherwise, those eggs and toast you requested for breakfast could be eggs and soggy toast with cold bacon.
There Are Specific Things You Should Not Order
Many luxury casino hotels offer 24-hour room service, which explains why you can order a steak at 2 a.m. However, you may not want to order that steak through room service. The lid on room service trays allows food to keep cooking while it's on the tray up to your room. If you ordered a medium well steak, it would most likely be well done when you receive it. Seafood, which may be flavorful and delicate in the casino restaurants, is stinky and overdone on room service. It is best to stick to fare that is not so dependent on the temperature of the food. Examples are club sandwiches and salads, or a burger. If you are really in need of a steak, order one level rarer than you usually order it.
Your Favorite Hotel Chef Might Not Be Preparing Your Food
You are a frequent casino resort visitor. In fact, you have a favorite chef who always prepares excellent food that melts in your mouth. You eagerly await the meal you ordered from your chef's restaurant, but when it comes, it doesn't taste the same. Why is that?
Depending on when you order your food from your favorite chef, he or she may not be in the building. Increasingly, resort hotels are outsourcing their late night snacks to local restaurants. It is cheaper to order the food from a local eatery than to pay for an overnight chef. In addition, other casino hotels have a smaller menu available for room service overnight. It can be heated up or served without heating, such as sandwiches.
Fried Chicken Needs Its Own Rule
If you get a craving for chicken wings, you're not alone. One of the most frequently ordered late-night room service items is chicken wings. However, chicken wings and other pieces of fried chicken need their own rules. If you are ordering chicken wings or other forms of fried chicken, be sure you get them extra-crispy. This ensures you are getting chicken that has been thoroughly cooked. Otherwise, you may get chicken that is halfway done with a cold, raw middle.
For the Love of God, Fill Out Your Breakfast Cards
One of the busiest times of the day for room service is during breakfast. Many casino hotels ask that if you are going to eat breakfast through room service, you fill out the cards. The cards allow the restaurant to be sure they have enough food for the morning rush and pace themselves accordingly. In addition, if you fill out your breakfast cards, you will get your food on time.
Please Don't Greet Them in the Nude
Scenarios in the movies portray waiters being greeted at the door by a guest in the nude. However, no one on the hotel staff wants to see you without clothes on. The hotel staff, while fine with bathrobes and pajamas, is not OK with forms of undress. Before you answer the door, be sure and answer it clothed. Keep in mind that the resort can refuse you service if you can't comply with rules and discretion.
Call Them to Come Get the Tray
The service staff does not want to interact with your tray after it has been out in the hallway. Employees have seen other guests eat food off trays, and leave other objects on the trays for employees to find. Examples of other items include used condoms, legal paperwork, underwear, and spoiled food from days before. No one wants to pick up those trays.
To stay in your service staff's good graces, call the front desk and tell them you are finished eating. The staff will send someone to come and get the tray from the room. Then they can take it down to the restaurant and dispose of it. That way, your food doesn't get eaten by another guest. Also,your tray isn't used as a substitute trashcan that someone else has to clean up.
Tip Wisely
If you win big at the tables, by all means, tip generously. Tip the service people who bring you food, help you find the best show in town, and clean your room. When it comes to tipping for room service; however, know that hotels already tack on service charges for room service. So the need to tip your room service staff has already been taken care of. Unless you were given the best room service of your life, your tipping should be reserved for other service employees.
Disclaimer: All images are copyright to their respective owners and are used by USA Online Casino for informational purposes only.