The state of Nevada was able to get Question 2 passed recently, which means  that, as of Summer 2017,those who visit Sin City can now get recreational marijuana. The first recreational licenses were issued to dispensaries that already carried medical marijuana. If you want to make this a part of your trip when you visit Las Vegas, here are some of the city's best dispensaries.

Blüm
Weedmaps Rating: 4.7/5 (299 Reviews)
Price Range: $29.99 – $99.99 per eighth
Location: 4608, 1921 Western Ave, Las Vegas, NV 89102
Blüm was founded in 2013 in Oakland, Calif. TerraTec, a publicly traded company, joined forces with Blüm four years later, and gave it the distinction of being one of the first cannabis companies that were publicly traded. There are currently three Blüm dispensaries in Las Vegas, and according to LeafBuyer, the company had definite plans to purchase a recreational marijuana license. Blüm executives say they are committed to assisting in Nevada's cannabis movement in any way. Blüm also wants to work with the community to achieve responsible legislation and doesn't want to have separate dispensaries that are working against each other to make a profit. The company is known for its affordable pricing, and since tourists have made Blüm popular in California, the company has accurately predicted it will have similar success in Las Vegas.
NuLeaf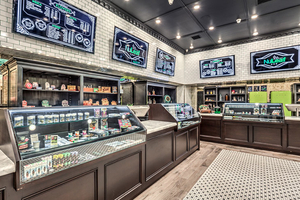 Weedmaps Rating: 4.5/5 (173 Reviews)
Price Range: $55.00 – $65.00 per eighth
Location: 430 E Twain Ave, Las Vegas, NV 89169
NuLeaf has been in business for just over a year in Las Vegas and has locations in Berkeley and Lake Tahoe, Calif. NuLeaf is right off The Strip in a standalone building and has convenient parking for guests. The company has been operating in California for nearly 20 years, so it has the advantage of knowing what customers need and how different strains of marijuana affect the body. NuLeaf is also focused on making patients their priority. It has long been involved in activism in California when it comes to the use of medical marijuana. NuLeaf produces, sources, and buys medical marijuana products, and has been open longer than any other U.S. dispensary. NuLeaf also works closely with Kiva Confections to produce edibles that are effective and potent.
Essence
Weedmaps Rating: 4.9/5 (3625 Reviews)
Price Range: $33.00 – $65.00 per eighth
Location: 2307 S Las Vegas Blvd, Las Vegas, NV 89104
Essence is new company and has been in business for about three years. The company has both a production and cultivation license, so it can use its own supply to service customers. Essence is committed to quality and has three locations, including one on the Las Vegas Strip. All of them opened in 2016. The staff and environment are very professional, and patient consultants work learn about the needs of customers before making sales. This is slightly different from the "budtender" staff that work at most dispensaries and simply offer marijuana based on the customer's budget and preferences. All the patient consultants go through training to get familiar with the products, so they can offer accurate information to customers. Essence also has a registered nurse onsite who will meet with any customer free of charge. It  is the only dispensary in the state of Nevada that holds focus groups. The groups help Essence to learn what patients are expecting from dispensaries and the changes they'd like to see, and the company has used this information to continue to improve.
Shango
Weedmaps Rating: 4.1/5 (544Reviews)
Price Range: $55.00 – $65.00 per eighth
Location: 4380 Boulder Hwy, Las Vegas, NV 89121
Shango was founded in Portland, Ore., and has been in business for about four years. The Las Vegas location offers retail services, as well as vertical cultivation and extraction. The products that come from Shango are inspected for quality, and the staff prides itself on patient education to serve each customer properly. The Shango team also combined the experiences of more than 100 years when it comes to running an extraction and cultivation facility. Shango also provides patient education services, so customers can learn about the various products that can help with certain medical conditions.
Reef Dispensaries
Weedmaps Rating: 4.6/5 (2,019 Reviews)
Price Range: $42.28 – $59.20 per eighth
Location: 3400 Western Ave, Las Vegas, NV 89109
This company started in 2014 and now has six dispensaries – two in Las Vegas. Reef Dispensaries seeks to appeal to people who want quality and affordable marijuana products and has a cultivation facility that is only two blocks from the Las Vegas Strip. Several patients who come to Reef Dispensaries have debilitating conditions they use medical marijuana for. That is why the staff is extremely attentive to the needs of all the customers and is committed to providing only the best products. Reef Dispensaries is also one of the trusted resources for exotic strains, and the company is Nevada's licensed retailer and cultivator for Khalifa Kush.
Las Vegas Releaf
Weedmaps Rating: 4.7/5 (793 Reviews)
Price Range: $39.00 – $58.00 per eighth
Location: 2244 Paradise Rd, Las Vegas, NV 89104
Las Vegas Releaf was Las Vegas' first dispensary. It opened in 2015, and its leaders continue to strive to make Las Vegas Releaf one of the first places patients turn for cannabis-based health remedies. Las Vegas Releaf is known for its beautiful plush interior that makes patients feel at home, and the company offers some of the best cannabis in Nevada. Las Vegas Releaf also has several edible cannabis products for patients to try and has plans to partner with Brew Budz to make cannabis-infused coffee that can be prepared in a Keurig.
The Grove
Weedmaps Rating: 4.9/5 (1,781 Reviews)
Price Range:  $42.28 – $54.97 per eighth
Location: 4647 Swenson St, Las Vegas, NV 89119
The Grove was ranked among the best dispensaries in the country, and the company uses high-grade flowers and distilling methods to make marijuana that can be used for both medical and recreational purposes. The facility is also open 24 hours a day, which means you can visit The Grove after taking in some of the other wonderful attractions Las Vegas has to offer. The Grove offers in-depth information on how marijuana can help individuals to manage chronic illnesses including glaucoma, epilepsy, cancer, and even AIDS. There is a clinic adjacent to the dispensary so people can get or renew their medical marijuana cards conveniently. The Grove's website also features a menu that explains each of the products offered, as well as articles that detail the difference between various strains of marijuana and their benefits/effects.
ShowGrow
Weedmaps Rating: 4.7/5 (1,300 Reviews)
Price Range: $41.00 – $54.00 per eighth
Location: 4850 S Fort Apache Rd #100, Las Vegas, NV 89147
ShowGrow first opened in Santa Ana, Calif., in 2015, and, in the summer of 2016, the company came to Vegas, where it was met with significant enthusiasm. The dispensary is in the Summerlin area, so it's close to many of the appealing attractions Las Vegas has to offer. ShowGrow is known for being honest and open with customers. The staff takes a hands-on approach to teaching customers. ShowGrow also works with Moxie to deliver edibles and concentrated products that give customers an innovative way to get the benefits of medical marijuana.
The Apothecarium Las Vegas
Weedmaps Rating: 4.6/5 (357 Reviews)
Price Range: $35.00 – $60.00 per eighth
Location: 7885 W Sahara Ave #112, Las Vegas, NV 89117
The Apothecarium was founded a few years ago in San Fransisco and later opened a Las Vegas location. The company is committed to offering a clean and professional facility to customers and offering extensive patient education. The Apothecarium provides personal consultations for patients so the right products are provided based on the patient's physical needs. One of the staff members is also a registered nurse and has trained the rest of the staff to advise customers based on medical information. When it comes to extracts, the company uses Young Fashioned for its high-quality and affordability. The Apothecarium often recommends the extracts to people who are experiencing constant and extreme pain and need relief.
The Clinic
Weedmaps Rating: 4.6/5 (524 Reviews)
Price Range: $35.00 – $56.00 per eighth
Location: 4310 W Flamingo Rd, Las Vegas, NV 89103
The Clinic started in Colorado. In 2014, it took home the National Cannabis Cup prize for best concentrate. The staff that now works in Las Vegas were trained in Colorado and brought their customer service and expertise with them. Customers have given The Clinic positive reviews because the staff takes time for one-on-one consultations and puts together an herbal combination that is best for each patient's needs and health goals. The facility offers a comfortable and family environment, but still provides professional information in terms of the products sold and their effect(s) on the body. The Clinic works with The Lab for extractions and can provide customers with information for preparing edible recipes.
The Source
Weedmaps Rating: 4.5/5 (420 Reviews)
Price Range: $35.00 – $52.00 per eighth
Location: 2550 S Rainbow Blvd #8, Las Vegas, NV 89146
The Source is a Las Vegas dispensary focused on customers having a safe and fulfilling experience. There are even parking attendants outside to facilitate the customer experience before individuals enter the building. The Source has extensive security and all products are locked in a safe after hours. The design of the facility is both professional and welcoming, and the medicinal-quality marijuana is among the best. The cannabis has been tested for quality. If you're not in the Las Vegas area or have not tried products from The Source during your visit, you can have the products of your choice delivered through online ordering.
Planet 13
Weedmaps Rating: 4.7/5 (251 Reviews)
Price Range: $45.00 – $60.00 per eighth
Location: 4850 W Sunset Rd #125, Las Vegas, NV 89118
Planet 13 was voted No. 1 among Las Vegas dispensaries. The company is known for producing high-quality recreational cannabis, as well as edibles and infused products that can be used for both medical and recreational purposes. The prices are competitive and Planet 13 prides itself on offering stellar customer service. Both delivery and pickup options are available, so you can place your order if you're in Las Vegas and pick it up without a wait, or you can have your products mailed to you if you're not local. The menu includes a detailed picture of each cannabis strain, along with detailed descriptions of each product, including the best properties of the cannabis and its price and weight. Planet 13 has also been featured in several local news outlets and continues to provide in-depth patient education that is beneficial for those who are using cannabis for medical purposes. The company also helps people to understand how cannabis affects the body and lets new customers know what to expect after making a purchase. Consultations are also available for those who want to know more about using cannabis long term to improve their quality of life.
Disclaimer: All images are copyright to their respective owners and are used by USA Online Casino for informational purposes only.