Who needs summer? If you're looking for a bit of adventure this winter, grab your warmest festival attire and get ready to head to some of these epic destinations!

Venice Carnival, Italy
Taking place between the 22nd-25th February and again on the 1st-4th March – the Venice Carnival is a celebration held every year on the city's famous St Mark's Square. The annual traditional sees sparkling lanterns hang from the streets in delicate, colorful formations, while masked Venetian dancers can be seen parading up and down the canals in spectacular choreography.
The event also incorporates live entertainment such as DJs, bands and live acts including classical orchestrations, professional performers, belly dancers, magicians, palmists, jugglers, and comedians. You don't have to know any wacky dance moves to join in the fun, though –just throw on your glam rags and be ready to have fun!
Amsterdam Light Festival, Netherlands
This 56 day-long event is one of the most famous light festivals in Europe, and uses over 30 art installations as projections of beautiful holograms and 3D mappings across the city's canals and streets. Between November 30th and January 21st, more than 600 artists showcase their work here, and it really is the ultimate phenomenon. There are multiple ways of seeing the festival, either walking around, by boat or on a bike.
Horizon Festival, Andorra
An electronic music festival held in the ski resort of Arinsal, Andorra. This seven-day celebration sees DJs and artists from all over the world come here to perform across a plethora of stages and monstrously loud sound systems, while skiers and snowboarders party under the clear night sky to techno, soul, funk, drum & bass, grime, garage and reggae. During the day, you'll have the opportunity to hit the slopes, drink hot cocoa and wine with friends and new acquaintances or getting steamy in a Jacuzzi. But when nightfall hits, that's when the celebrations really start and the whole resort comes to life! Make sure you pack an extra set of thermals or two!
Snow & Ice Sculpture Festival, Belgium
One of Belgium's most talked about celebrations, the Festival of Ice Sculptures takes place in the capital of Bruges, and is a truly marvelous spectacle! Preparations take over a month before everything has a place and is set for the thousands of tourists that flock here every year for the festivities. Over 40 professional ice sculptors and videographers from seven different countries, unite to create the ultimate exhibits which span over a 210,000 sq. ft. area, using more than 3,000 blocks of ice, and over 100 light projections on a 523 m2 LED wall. Live acts and performances can be seen and heard throughout the duration of the festival, and plenty of winter warming food stalls will provide you with hot cocoa, wine, and the best of Belgium beer.
Cologne Carnival, Germany
Cologne Festival starts on the 11th minute of the 11th hour on the 11th day of the 11th month. In the lead up to the opening day, the streets become littered with costume-bearing revelers, dancers, swordsmen, medieval actors and more. Celebrations or what's known as the "crazy days" begin to take place a few days before the main event, and consist of colorful Corp troops parading the streets, and school kid parades. The march of "Cologne's Dreigestirn" which showcases the Prince, the Peasant and the Maiden, take over the city streets. Expect to be consuming a substantial amount of alcohol during this festival, as the bars and pubs closing times are always put on "temporary suspension" when this event takes place every year!
Momentum Ski Festival, Switzerland
Get ready for another cold encounter at one of Switzerland's most popular seasonal events. Momentum Festival sees skiers, snowboarders and general snow enthusiasts flock to this picturesque resort in the Alps. This four-day extravaganza of winter sports activities sees the City Ski Championships, multi-genre music including DJs and live acts, as well as comedy shows and club nights. An array of different accommodation options includes 5-star luxury hotel suites as well as rooms for those on a bit of a budget. The festival also holds a variety of different ski-based entertainment programs suitable for all types and all ages.
Altitude Comedy Festival, Austria
You won't be able to walk through this festival without hearing bouts of laughter echoing between the Austrian Alps! For three days every year, this tranquil, snow-swept location becomes the central hub point for a huge comedy rendezvous, where the biggest names in stand-up congregate and put on exuberant displays which will have the whole family in complete fits of giggles. They also host a multitude of different music performances from various genres, as well late night parties, and tons of winter sports amusements. Get ready to soak up the Austrian atmosphere!
Ljubljana Dragon Carnival, Slovenia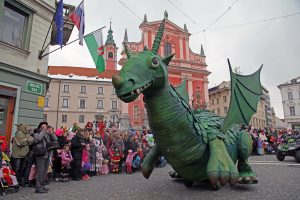 The Dragon Carnival is a tradition of Slovenia that dates back to Pagan times, and although it isn't the largest carnival in the country, it has certainly gained a lot of traction and popularity from surrounding parts over the years. This is primarily due to the sheer size of their dragon mascot, which has been recorded as one of the largest in Europe! The event begins on Shrove Saturday, ending on Shrove Tuesday, and stems from ancient Slavic traditions which represents the unique heritage of Slovenia. You'll be able to witness glamorous, masked figures parade through the city streets of Ljubljana while warming your fingertips with an authentic cup of hot wine.
Fete du Citron, France
Also known as "the lemon festival" or the carnival of Menton, this February festival brings in the most incredible and intricate looking sculptures, constructed entirely from lemons and oranges! It has been an age-old tradition in this French region since the first one took place in 1882, where Queen Victoria herself was present. It brings together a bright and flavorsome concoction of citrus floats, confetti, fanfares, dancers, folk groups and much more –all gathered and parading through the streets on trolleys of shrubs and fruits boxed in garlands to create stunning installations.
One of the main highlights of this festival is the 'Les Jardins de Lumières' – an explosion of color and light displayed to create a dreamlike spectacle that never fails to have the audience in complete wonderment. The carnival festivities kick off on a Thursday with a grand firework display.
Up Helly Aa, Scotland
Best buy yourself a kilt with extra layers, as Scotland sure knows how to throw a party! Taking place on the main port of the Shetland Islands, one of the key traditions of this festival sees over 1000 costume 'guizers' throw burning torches into what's known as a 'galley', an ancient Viking ritual. Up Helly Aa brings the village locals together every year to host a spectacular fire display, incorporating true Celtic traditions through extravagant marching parades, dancing, singing and torch-lit processions.
Conclusion
The cold may be well on its way, but that doesn't mean you have to spend the next three months cooped up inside! Unlike your average summer festival, many of these celebrations also offer special all-inclusive packages that make it that bit more affordable and convenient to visit. These can range from day tickets to full-scale itineraries covering the festival itself, additional excursions, top-class accommodation, food and drink and some forms of transport i.e. airport shuttles, resort taxis.
If you do happen to attend any of the above listed winter events, be sure to send us pictures and let us know about your brrr-iliant experience!
Disclaimer: All images are copyright to their respective owners and are used by USA Online Casino for informational purposes only.