Jackpot wins in Las Vegas of huge proportions make headlines fairly regularly and one never knows when the next big win is going to pop up. It is intriguing to look at the pattern of winners in recent history to see how it has all played out.
It is a rarity, but megamillion jackpots in Las Vegas sometimes do happen. The biggest jackpot in recent memory was in 2014 when an unidentified player from Las Vegas won a whopping $14 million when, by chance, he visited the Rampart Casino with a friend from out of town one day. It only took five minutes on the Megabucks slot machine before he landed the huge payout. The man said he would donate the money to his church and a few of his favorite charities.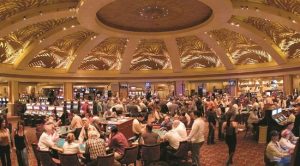 The Rampart covers 50,000 feet in the Marriott Las Vegas Resort and Spa. It has keno machines, video poker, and almost 1,300 slot machines. Games are featured in the Summerlin Room, which is a high-limit area, with games that can go from $1 to $10 in denominations and the casino features a Bingo Room with 300 seats located mere steps away from the main buffet. The Marriott itself has 548 rooms for guests and has rooms with views of the golf course, mountain ranges, and city. Some of the rooms have jetted tubs. Combined with the possibility of a big win like the one in 2014, it is no wonder that it has become a Vegas hot spot in recent years.
A Bally's guest also scored big on the Megabucks machine. Johanna Huendl, who is 74 years old, spent only $170 before winning the jackpot. At first, she did not believe what she saw. She thought the machine said she had won $2 million, but she was wrong. It was actually much more than that! Huendl won gasp! $22.62 million. That is a really good return on investment! Bally's always has its fair share of winners and if you are going to visit, feel free to bring friends! The resort has in excess of 2,800 super-sized rooms for guests and countless video poker and slot machines and more than 65 table games, such as craps, blackjack, roulette, and baccarat, in addition to a Keno area that operates 24 hours a day, seven days a week.
One of the biggest progressive slots payoffs happened in Las Vegas in 1998, when a former airline flight attendant spent $300 on a Megabucks machine and wound up winning an unbelievable $27.5 million at the Palace Station. The casino is a 100,000-square-foot space with a mix of table games and slots for hours of endless enjoyment and, apparently, huge payouts. But, 1998 was a long time ago. When you consider the odds, it is about time that Palace Station produces another big winner.
Speaking of big winners, a cocktail waitress actually working in Las Vegas at the time, named Cynthia Jay Brennan, won $34.9 million after putting only $27 in a Megabucks slot machine in 2000. She was at the Desert Inn, which has since been shut down. The casino sat on the parcel of land that is now occupied by the Wynn and Encore.
No list of high rollers and huge payouts in Las Vegas would be complete without mentioning the Excalibur. An unnamed 25-year-old IT professional from Los Angeles would agree won $39.7 million from the Megabucks slot machine at Excalibur after spending only $100. The Excalibur is a famous landmark with 1,400-plus slot machines and keno. It also has an awesome poker room and much more. In addition, the resort has a history of big winners. These are some of the biggest wins ever in Vegas, and 2018 is turning out to be a very profitable year for visitors as well.

Already, 2018 Has Already Seen Its Share of Big Winners In Las Vegas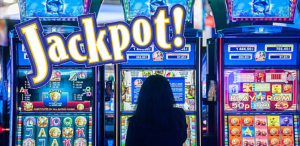 To kick the year off, two properties at Station Casinos had guests who hit jackpots on the slots two days in a row. Jan. 12, shortly after noon, a man named Wade Williams from Texas casually strolled into Green Valley Ranch Resort and put $1.25 in the Wheel of Fortune slot machine. Imagine his surprise when he hit the jackpot and took home $440,754.
The very next day Jan. 13, an unidentified guest played the Wheel of Fortune Red, White, and Blue slot machine at Palace Station. The machine has a 25-cent denomination, but the player scored $215,747 after betting only $60 and playing the game for only 10 minutes. Not a bad day!
My favorite casino story so far this year also occurred in January 2018. A man who only provided his first name, Lyle, loves the television show "The Simpsons," and decided to play the Homer Simpson slots at the Cosmopolitan in Las Vegas. Lyle and his girlfriend had only been playing for about 20 minutes when boom! He won the jackpot and got to take home $1,033,339 to Orlando, Fla. About one month earlier, in December 2017, the Cosmopolitan had another guest who celebrated his 21st birthday by scoring a jackpot worth $400,000.
Also, in January and while playing the Wheel of Fortune slot machine, a guest only giving the name Paul posted on Facebook that he had won $286, 110.13 at the South Point hotel-casino. You can bet that social media post got a lot of likes.
On Feb. 10 (approaching Valentine's Day), a woman from Las Vegas was loving the Dual Daub bingo game. She wishes to remain anonymous but is happy to report that she won the biggest jackpot in the history of the bingo game, worth $110,726 at the Rampart Casino.
Moving ahead to Feb. 11, a man from Wisconsin, who did not want to be named, hit the Wheel of Fortune jackpot for $1.23 million at the Fremont Hotel & Casino downtown. The year is still unfolding, and the winners keep coming. Last year, in August, at the Fremont, Rodolfo T. won $11.8 million in the Megabucks jackpot! That is two big jackpot winners in a little less than seven months. The Fremont Street Experience is the area where the hotel is located. It boasts an iconic backdrop that has been seen in Hollywood films and on popular television shows.
A female from the local Las Vegas area hit the jackpot at Green Valley Ranch Resort during the last weekend of March 2018 at Station Casinos. She wishes to remain anonymous but is thrilled to have won $1.4 million at Henderson hotel and casino while playing the Buffalo slots.
Friday the 13th always gets a bad rap for being an unlucky day. However, the opposite was true for another Buffalo slot player. The hour was 2:30 a.m. Friday, April 13when the unnamed player won $621,606.55 at The Orleans, which is a little bit west of the Las Vegas Strip on Tropicana Avenue. Lucky spot! And, it seems like 2018 has been a lucky year already for these jackpot winners. As the ancient Roman philosopher and writer Seneca, the Younger, famously said, "Luck is what happens when preparation meets opportunity." When will you make your big score in 2018?
Disclaimer: All images are copyright to their respective owners and are used by USA Online Casino for informational purposes only.