Atlantic City. Even for those who have never gambled and/or have never set foot in a casino, the name is synonymous with world-class gambling. However, these days there could be a change on the horizon. With casinos having been shut up and big names having pulled out of the resort city, it's no wonder that those both in the gambling community and outside it were beginning to think that Atlantic City had seen better days.
Over the last few years, it's fair to say that Atlantic City has had a bit of a rough time. Long known as one of the world's greatest gambling destinations after Las Vegas, the New Jersey resort city has fallen on hard times recently as neighboring states have started to open new casinos that have proven to be serious competition. Not so long ago, the state actually took over the management of Atlantic City, which led to disagreements between the state and local governments. It's no wonder that many people believed that the future of Atlantic City was looking bleak.
However, there have been some new developments recently in Atlantic City proving that the city isn't quite finished yet. In fact, there's plenty of life in the old place yet. While some casinos have closed their doors permanently, other new developments are opening theirs. There is also a slew of other exciting projects in the imminent pipeline. The key to the city's future appears to lie beyond gambling and, instead, in attracting young people and families by offering a range of entertainment options alongside the traditional gambling venues.
Not only that, but Atlantic City finished 2017 strongly, with a record year for its Internet winnings and excellent casino revenue figures. The new additions that will be arriving this year will only serve to strengthen the economy and help to fight off the increasing competition.
The Hard Rock Hotel and Casino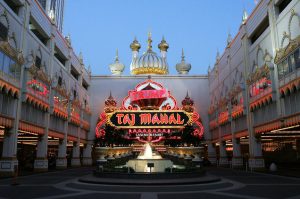 One of the most exciting projects to hit Atlantic City will open at some point in 2018. The Hard Rock Hotel and Casino will take the place of the old Trump Taj Mahal that closed its doors in 2016. The development, in which $375 million is being invested, will give the casino an overhaul and will create up to 3,000 jobs for local people.
As well as an impressive 130 table games and 2,400 slots, the Hard Rock is also planning to host concerts during the week, thus making the venue more appealing to a wider range of visitors. A gas station, as well as a convenience store, are going to form part of the new development, while new world-class eateries and bars will be included in the plans.
The Beach at South Inlet
For those who want to live right in the heart of Atlantic City, the Beach at South Inlet aims to offer a luxurious way of life. A high-end apartment complex, this development, with its 250 units, are located just opposite the new Hard Rock Hotel and Casino and is set to open its doors to tenants late this summer. Aimed at two diverse markets – young people who want the chance to live in an urban location, and older people who want to downsize to an apartment that has proximity to the casinos and the beach – this residential complex is the first to open in the area for a very long time.
The Steel Pier Observation Wheel
No city seems to be complete these days without a giant observation wheel, and now Atlantic City promises to jump on the bandwagon. A 227-foot tall wheel is set to open at some point on the Steel Pier, will be open all year-round, and offer panoramic views of the skyline and the ocean. Boasting 40 temperature-controled gondolas, the ride will have a maximum capacity of 240 passengers. Rider will enjoy five turns of the wheel, each one taking three minutes to complete. This project has been in the pipeline since 2013, but it is hoped that 2018 will be the year it is finally completed along with the boardwalk extension to the north of Revel.
The Gateway Project
Atlantic City will be the location of a new residential campus of Stockton University when it finally opens during the fall of 2018. Opening on the site of the former Atlantic City High School, this stylish new campus will be comprised of an academic building, parking garage, a student center, and housing building. It is hoped that this move will help in the transformation of Atlantic City from a purely gambling destination to a city that offers a world of different opportunities from entertainment to education.
The project, which is costing $220 million and which will take over 675,000 square feet, will offer 15,000 square feet of retail environment. There are high hopes that this will make the Gateway Project an anchor for a new and better Atlantic City. Bringing more than 500 job opportunities to the area and a much-needed economic boost because of the staff and students who will be relocating to the city, it is unsurprising that there has already been an increase in real estate prices thanks to the promise of this development.
Ocean Resort Casino
There were many rumors surrounding the Revel Casino Hotel and whether or not it would be sold, and, indeed, to whom. However, it has recently been reported that the former casino has now been sold to ACOWRE LLC, a group owned by Colorado developer Bruce Deifik, for $200 million. The plan is to rebrand the property with a new name, "Ocean Resort Casino," and open it in summer 2018.
The ill-fated Revel Casino struggled with problems from the outset when it opened in 2012 and lasted barely two years before filing for bankruptcy. It then went through another period of uncertainty after being bought by the Polo North Country Club Inc. with the plan to reopen it as "TEN Atlantic City." Unfortunately, there were ongoing issues regarding a lack of liquor licenses, casino licenses, and mandatory mercantile licenses, and despite assurances the casino would soon be opening, it went up for sale once more without ever opening its doors.
As the Ocean Resort Casino, the Boardwalk property will boast 138,000 square feet of gaming floor with more than 2,000 slots, 100 table games, and even a sportsbook if the ban on sports betting ban is eventually overturned by the U.S. Supreme Court. It is rumored that the new resort will also keep the Revel Casino's 165,000 square feet of convention and meeting space and a 5,700-seat concert hall with a possibility of further expansions in the future.
Although Atlantic City has its problems, the future is certainly starting to look up. While it may have lost its gaming monopoly a decade ago, the New Jersey resort destination is ready to relaunch itself as a new and diverse environment with corporate offices, residential opportunities, education, and family-friendly attractions, as well as the more expected gaming options. With the Gateway Project building up the south end of the boardwalk and the Hard Rock growing the other, it is hoped that the challenges of the depressed urban area will begin to be resolved.
Disclaimer: All images are copyright to their respective owners and are used by USA Online Casino for informational purposes only.