A fresh round of accusations levelled at Melbourne's Crown Casino has prompted action in the Australian parliament, demanding stronger oversight into Crown's affairs.
Previously, anonymous tips by casino staff have included reports of immigration violations by Chinese high rollers, drugs, prostitution, human trafficking, and violence against women. In all cases, Crown has denied the claims.

Not Crown's First Rodeo
Crown staff members have repeatedly reported violations of criminal law, including illegally fast-tracking wealthy gamblers from China through the immigration process, often ignoring it completely.
In addition, Crown stands accused of ordering staff to give the high rollers "whatever they ask for," which often includes drugs and prostitutes. In some cases, casino staff members have reported degrading and violent acts by VIP punters toward these women, who are often themselves trafficked illegally.
Some of these wealthy Chinese gambling tourists were allegedly linked to triad gangs. When casino staff members expressed concern over the numerous violations, they were advised to ignore them under a system staff called "Crown law."
A Law unto Itself
The anonymous limousine driver informed Independent MP Andrew Wilkie all about the infractions, and how staff was pressured to ignore them. Staff accused VIP high rollers with avoiding immigration paperwork, prostitution, and violence toward women, among other things. They also accused Crown casino of 'looking the other way.'
The driver said that Crown staff are expected to procure drugs or sex workers for the high rollers. "Whatever a VIP asks for, you're expected to do it," he informed the MP, "Legal, illegal. It doesn't matter. Crown is a law unto itself."
Royal Commission Requested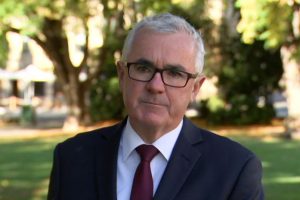 Mr. Wilkie is joining forces with Victorian state MP Fiona Patten in an effort to push for a royal commission to probe Crown. When Wilkie flagged the Crown for investigation last July, Home Affairs claimed the investigation was underway.
However, Mr. Wilkie said the probe was a "half-baked" response. He and Ms. Patten demand a full inquiry into the casino by the federal government. "I feel strongly now that this has reached the point of requiring a full royal commission," Mr. Wilkie said on Sunday.
Ms. Patten wants to call the state's gambling authority to task as well, for failing to do their job in response to all of the recent allegations against Crown. "I have been telling the Government that the gaming regulator, the VCGLR, is not doing their job properly," Patten said.
Crown Rejects Claims
In a move that has almost become a standard Crown press statement, a casino spokesperson has rejected all of the criminal claims against them, adding that "If anyone has any allegation or evidence of unlawful conduct then they should contact the relevant authorities."
But the official company line stands in stark contrast to the anonymous tips by staff members. Staff fears retribution by Crown in case they report any wrongdoing, hence the anonymous tips.
Another denier is the VCGLR gaming authority itself. Chairman Ross Kennedy defended his agency against Patten's criticism, saying that she had not approached the commission with her concerns.
According to Australian media, Mr. Kennedy said "The VCGLR is committed to ensuring that Victorians and visitors enjoy safe and responsible gambling and liquor environments and emphatically rejects the unfounded attacks on its competency and any suggestion it is 'not doing its job properly'."
Victoria Gaming Minister Marlene Kairouz defended the VCGLR, saying that they are "taking appropriate action to examine the matters raised in the media."
As long as the whistleblowers keep coming forward with allegations against Crown, local authorities will be forced to launch an official inquiry, whether they want to or not.
While the various state MPs and gaming authorities pass the Aussie buck around, the Crown can continue to flaunt authority and break the law – if in fact they are doing so.
But is up to the regulatory bodies to ensure that casinos are operating within the laws and treating staff and clients with fairness and respect, whether the casino in question denies the claims against them or not.
Disclaimer: All images are copyright to their respective owners and are used by USA Online Casino for informational purposes only.