After their first summons was ignored by four women, called "web pretties," police in Thailand sent a second one to them. These web pretties were illegally promoting online gaming in the country. Online gaming is illegal in Thailand.

Web Pretties
Beautiful women are used in social media all over the world to promote products and advertise upcoming concerts or promotions. In Asia, women who advertise products on social media are called "web pretties." While many web pretties publicize legal products all over Asia, there are women who promote other illegal activities. In the case of the Thai web pretties, the police said that dozens of women are in trouble for promoting forms of online betting from companies even though online gaming – and most forms of gaming in general – are illegal in Thailand. The police in Thailand were especially watchful of the web pretties and what they were advocating in the weeks leading up to the World Cup tournament, which began last month and ended this month. Millions of gamers placed illegal bets on World Cup teams online.
Arrests
Police in Thailand were out in force during the summer to crack down on hundreds of gaming sites that were trying to entice gamers to come to their websites to gamble. In the midst of the crackdown, the police also targeted the women who were promoting the online gaming. The police summoned and charged more than 100 models and other celebrities in Thailand, and asked 37 to testify about how they were recruited to advertise for gaming sites, what their roles were, and how much they were paid. Only 33 appeared. Of the 33 women who did attend, 22 were released without being charged, and the others were given suspended jail terms and fined $30 for their roles in encouraging gaming in the country.
If the four women who refused to attend the first hearing refuse to attend the second hearing as well, they will be arrested.
Lucrative Business
Although the business of being a web pretty comes with the threat of a fine and possible jail time, hundreds of women sign up to become one. The women are not just Asian, but European as well. Recently, an Irish model was convicted of violating Thai gaming regulations by promoting online gaming during the World Cup.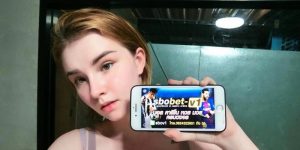 The model, who was born in Ireland, came to Thailand in her early teens to begin working as a model and remained in the country. During her testimony, she told the court that she did not know that gaming online was illegal. She was approached by someone representing online gaming websites and was promised a flat fee for promoting the gaming websites on social media.
Web pretties can make more than $11,500 per month advertising gaming on social media, which is a lot of money in Thailand.
The arrest of the web pretties is part of an overall crackdown by the Thai police on online gaming companies, especially during the World Cup. It is estimated that millions of dollars are flowing out of the country because of the number of people who are gaming and placing sports bets online. Thai police estimate that there were more than 100,000 illegal sports betting sites up and running for the World Cup.
While the Thai police have been concentrating on web sportsbooks because of the World Cup, other casino gaming and online poker sites proliferate in the country. It has been suggested by some in Thailand that the country may want to consider legalizing online gaming in the hopes that the games can be taxed and regulated.
Disclaimer: All images are copyright to their respective owners and are used by USA Online Casino for informational purposes only.