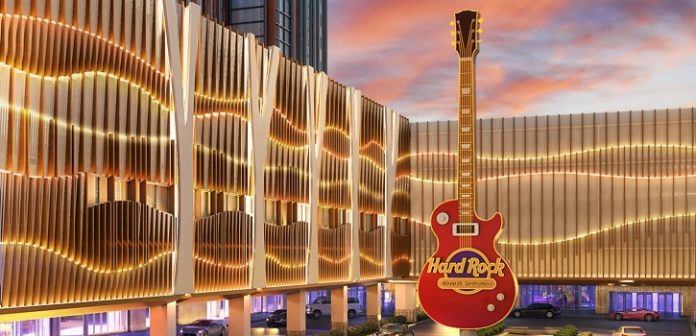 Hard Rock International has been reprimanded by the New Jersey Division of Gaming Enforcement (NJDGE). The "slap on the wrist" was for non-compliance with guidelines. Hard Rock recently applied for casino licensure for two new business leaders. However, the company forgot to make this information known to the board of another executive and even received a fine for this negligence.
What This Disciplinary Action Means
The Press of Atlantic City stated that the Hard Rock was ordered by the NJDGE to pay a fine of $5,000. The fine was issued because Hard Rock International did not file a petition when hiring Mann Lien as the organization's new marketing executive for Hard Rock Hotel and Casino in Atlantic City. The facility opened on the former site of the Trump Taj Mahal in summer 2018. The CCA or Casino Control Act states that all new executives have to be vetted by the Casino Control Commission.
This past July, Lien was brought on as the Hard Rock's new VP of Asian Marketing. Hard Rock didn't let the commission know that Lien was hired until October 22. On October 29, Hard Rock was fined. The next day, the facility requested a qualification waiver. However, since Hard Rock didn't file the waiver when Lien was hired is a CCA violation.
New Jersey and Sportsbooks
The Hard Rock Atlantic City is one of the few facilities in New Jersey that doesn't have a sportsbook. However, this is likely to change very soon. Hard Rock has recently submitted a document called a transactional waiver. The waiver will allow the facility to star "sports pool and online sports pool operations."
Hard Rock Atlantic city has also entered into a partnership through a signed agreement with Gaming Innovation Group (GIG), based in Malta. The partnership will provide omni-channel sports gaming service. Hard Rock is also in the process of reaching another agreement with Kindred Group, a popular online gaming operator.
The Hard Rock and GIG partnership will offer players a real-money casino online. The agreement is also GIG's debut in the U.S. online gaming market. Hard Rock offers a virtual casino for players. Gamers can play a variety of games, excluding traditional poker; however, video poker is part of the gaming lineup. GIG's CEO Robin Reed stated that this was "a first step in our mutually ambitious plans to take market share in the regulated online gambling market in the US."
Hard Rock Is Determined to Move Forward
When Hard Rock International was being established at the former Trump Taj Mahal, the Hard Rock was in the news daily. A number of sportsbooks have launched pretty quickly, which has surprised the public, and it is believed that the Hard Rock is following suit.
Hard Rock International is still committed to being the top facility in terms of sports betting. The attractive new property and the well-known name of the business will likely draw more gamers.
Near the end of June 2018, Hard Rock International hosted its grand opening in Atlantic City after being approved for business by gaming regulators in New Jersey. Due to its partnership with GIG, Hard Rock is able to offer gamers a number of live dealer games that are "broadcast, directly from Atlantic City." There are currently two other New Jersey sites that are also offering live gaming: Befair and The Golden Nugget.
Hard Rock's live dealer tech partner is still a mystery. The product for The Golden Nugget comes from Ezugi. However, this summer, Evolution Gaming, a leader in live dealing, announced that it had two deals with online casino operations in New Jersey: Resorts Casino Hotel and 888 Holdings.
Disclaimer: All images are copyright to their respective owners and are used by USA Online Casino for informational purposes only.