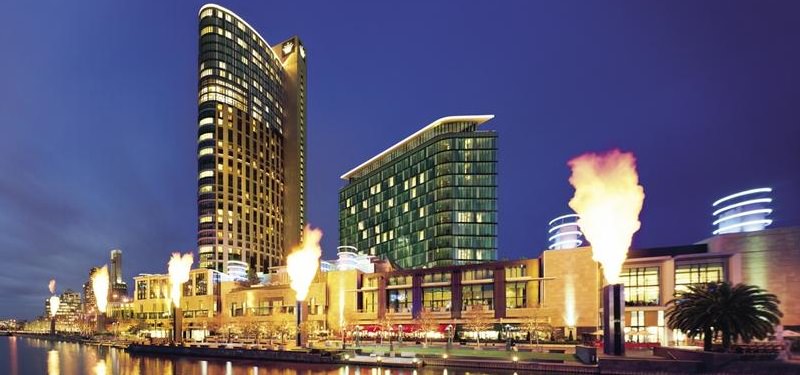 The ongoing coronavirus pandemic which has shuttered most of the world's business has an upside for Crown Resorts: the government probe into its ties with organized crime and money laundering is on hold indefinitely.

New Casino Construction Continues
The flagship of Crown Resorts remains shuttered in Melbourne, but construction on its new $1.5 billion Sydney casino continues. Construction continues while the New South Wales (NSW) investigation into Crown's gaming license has been put on hold due to COVID-19.
Crown founder James Packer's suitability to hold a gaming license came under scrutiny after many allegations of money laundering, VIP junket tour immigration violations, and ties to organized crime via Melco Resorts' Macau business dealings.
While government inquiries have stalled, construction continues on Crown's Sydney Hotel Resort at Barangaroo. When completed it will feature a 75-floor tower, making it the tallest structure in Sydney. The tower will also feature several 2-bedroom, 2-bathroom apartments selling for around $5.5 million each.
Official Inquiry
The Crown Resort in Melbourne was accused of allowing criminal activity to occur in the shadows. Private VIP high-roller junket tours allegedly circumvented immigration procedures, allowed money laundering, and turned a blind eye to human trafficking and violence toward sex workers. Accusations were levied by whistle-blowers among casino staff, but all allegations have been denied by Crown owner James Packer.
Macau mogul Lawrence Ho, the "King of Gambling" in Macau, has also come under fire for his Melco Resorts company's involvement with junkets linked to organized crime elements. The Crown and Melco were in negotiations for a partnership in Australia, which raised red flags at the NSW gaming commission.
Officials worry that the VIP 'members only' umbrella employed by Melco and Crown could conceal illicit activity. In February, the Australian Transaction Reports and Analysis Centre (AUSTRAC) reported that a Crown casino was used to facilitate an AUD$500,000 wire transfer to a known drug trafficker accused of ties to organized crime.
James Packer is no longer involved in the daily operations of the Crown nor does he serve on the board of directors. However, he retains a 36.8% majority share of Crown. When the NSW government inquiry resumes after the coronavirus crisis is over, both Packer and Ho are expected to testify.
Disclaimer: All images are copyright of their respective owners and are used by USA Online Casino for informational purposes only.