People know New York City for the Statue of Liberty, Times Square, amazing food — and illegal gambling. While that may sound like a stretch, New York City has thousands of illegal gambling sites, according to researchers. These illegal establishments are difficult to pinpoint and close down. Often, they are a vital part of some neighborhoods. In some cases, these illegal gambling sites have been in the neighborhoods for decades. Recently, authorities arrested a dry cleaner in Washington Heights for owning an illegal sportsbook in the heart of the city.
Gambling and Illegal Gambling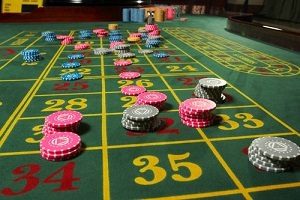 The state of New York has lots of venues for gambling. It allows casino gambling, although there is only one casino close to New York City. The rest of the casinos are in New York's North Country. The Empire State also allows horse racing, which is very popular. Bingo parlors for charity are popular as well. There are also tribal casinos run by Native Americans. New York participates in a lottery as well.
There are plenty of legal gambling venues in the Empire State. However, people still flock to illegal gambling venues in New York City. Researchers have found that part of the reason people visit illegal gambling locations is just that — their locations. There is no legal sports betting in New York. New York failed to pass legislation that legalizes sportsbooks during last year's legislative session. Many illegal sportsbooks are in neighborhood storefronts, which makes them convenient for people who live there.
Washington Heights
Washington Heights is a large neighborhood in the northern part of Manhattan. More than 150,000 people live in Washington Heights. Named for an old series of fortifications called Fort Washington, its borders touch two rivers, the Harlem River and the Hudson River. It is the highest point on Manhattan Island. The community is a mix of ethnicities and cultures. Half the residents are Hispanic. There are large numbers of Caucasians, African-Americans, and Asians as well. For the last decade, it has been a very attractive place for people looking for a place to live. Washington Heights has a low crime rate and good schools.
The Dry Cleaners
Melanie Fashion Cleaners has been in the area for decades. The dry cleaners hasn't always operated under the same name. The original owners of the dry cleaners were from the Dominican Republic. This is not surprising. Many people who are living in the Washington Heights neighborhood either immigrated from the island nation or their parents did. Dominicans make up a large percentage of Hispanic people in Washington Heights.
After a months-long investigation, NYC police raided the dry cleaners. The gambling took place when people approached the person working at the counter. They asked whoever was at the front of the dry cleaners to go to the back. The back contained a bookmaking operation. People could bet on different sporting events, both at the college and the professional level. Police working undercover were able to place bets of up to $40 on NBA teams. The undercover police officers received printed gambling slips from a laptop. They arrested the person taking the bets and charged him with promoting gambling. This person was from the Dominican Republic.
While the dry cleaning business is currently still operating, the state is seeking to close it for good. New York is also seeking to fine the business $1,000 for each day it was conducting a sportsbook. The owners have tried to distance themselves from the illegal sportsbook. They have said they will exercise greater control of the cleaners to prevent it from happening again.
Disclaimer: All images are copyright to their respective owners and are used by USA Online Casino for informational purposes only.