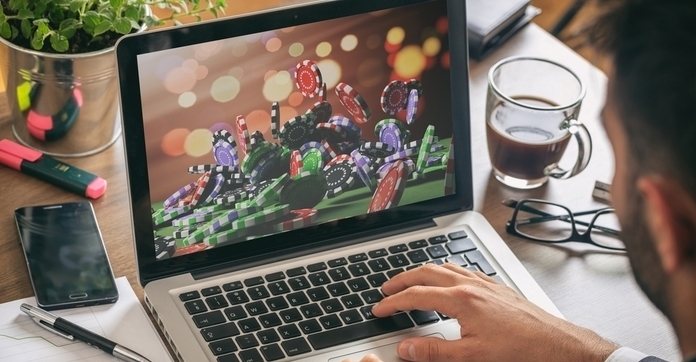 Research shows the online gambling industry is currently on track to become a trillion-dollar industry by 2022.

A Historical Mark for the Gaming Industry
 According to Juniper Research, a mobile, online and digital market research specialist, the gambling industry will officially hit the $1 trillion mark by the year 2022. One of the contributing factors to this lucrative forecast is the growth the gaming industry experienced in the last year. According to Casinopedia.org, a U.K. Gambling Commission report showed the iGaming industry in the United Kingdom was up 1.5 percent compared with 2016. It's also expected that, by the end of this year, the online gaming industry will have reached a hefty $700 billion.
According to Juniper Research, other factors for the growth included the introduction of new digital products and regulations that were introduced to the gaming market. The report also predicts that online gambling will make up 40 percent of online betting over the course of the next four years.
Technological Influences
Technology has contributed a great deal to the growth of the online gambling industry. Mobile gaming and online gambling have both helped to bring about the surge in 2017 online gaming stats. Mobile gaming came in first ( the largest sector). Sales for both computer equipment and PC games followed close behind, and this included an increase in subscriptions and purchases made within apps.
According to Techcrunch.com, worldwide app revenue increased 35 percent last year because of in-app purchases from Google Play and Apple's App Store. Stats show the App Store ended the year with $38.5 billion, which meant a 34.7 percent increase for the company. Google Play, in comparison,  had 34.2 percent growth and earned $20.1 billion. The report, which came from Sensortower.com, also showed the two apps collectively earned $58.7 billion compared with $43.5 billion in 2016. Furthermore, both app stores experienced major growth in first-time app downloads. A total of 91.5 billion first-time installs between both the App Store and Google Play meant a 13.5 billion increase from 80.7 billion first-time app downloads in 2016. The App Store saw 28 billion first-time downloads and a growth of 6.7 percent, while Google Play saw 64 billion and a 16.7 percent growth rate. Lastly, it was also shown that revenue for mobile gaming accounted for almost 82 percent of app revenue across the board. Google Play's 27.2 billion game installs also made up 77 percent of the roughly 35.5 billion downloads.
The Future of Online Gambling
The online gambling industry can and, most certainly will, only go up from here. As we continue to push toward a technology-filled era, things are becoming easier to access. One of the many reasons why online gambling is becoming more popular is because of convenience. While going to a casino is great because it involves lots of adventure, relaxing at home anytime you feel and either hopping onto your mobile casino game or logging onto your PC is much better for some.
Advertisements play a factor, too. Many people become attracted to the "free spins" ads that are constantly offered on TV and online. Free money offers also help to attract new players. Many online casino games also offer the chance to spend little but gain a lot. The combination of low stakes and a chance to win large progressive jackpots can certainly capture a player's attention. On top of this, data have shown a great increase in the number of women entering the online gambling industry. According to Slotsbaby.com, this is more than likely because of the number of stay-at-home moms, as well as the number of women who are not necessarily comfortable entering a casino setting.