Introduction
On Friday the 23rd November, The Bureau International in Paris announced that the World Expo 2025 will be held for the second time in the Japanese city of Osaka, after competitors Azerbaijan's Baku, and Russia's Ekaterinburg lost the bid for the event to take place in their cities.
Osaka previously hosted the World Expo back in 1970, and it supported the Japanese economy to a great degree after the 1964 Tokyo Summer Olympics. With preparations already underway, the 2025 event will take place on the man-made island of Yumeshima (dream island), and will be expected to draw in millions of visitors over the 6 months it will run. People in attendance can expect a full-throttle showcase of the local history, economy and culture, with a core focus on the future of medical technologies, scientific research, and artificial intelligence.
Nomura, a well-known Japanese broker in Osaka, said "This would likely stimulate redevelopment around Yumeshima, and benefit companies with real estate in the area and Osaka-based construction companies," said their team. "We also believe that drawing more foreign visitors to the area would increase the stability and growth prospects for the many hotels already being developed in the area."

An opportunity for the casino industry
In light of the recent news, the local government have also been discussing plans to erect a casino resort on the island, as a strategy for encouraging more tourism into the region. The casino would be one of the first in Japan, and it is said that up to three Integrated Resorts (IRs) could be permitted to set up base across the country in time for the event. Although the locations are yet-to-be-determined – major gaming operators have already expressed their interest in obtaining one of the 3 licenses, with the first one said to be issued around 2020 and fully operational by 2025.
Nomura also said how Osaka is viewed as a "leading candidate" for hosting a series of casino resorts in Japan; whilst information given from the GGRAsia stated how anyone wishing to develop an Integrated Resort on the island of Yumenshina, should fully utilize the infrastructure which will be developed at the 2025 event.
The IR's will bring a hopeful 'boost' in tourism to the local economies, and will accommodate everything from hotel suites, conference rooms, restaurants, clubs and bars, theaters and other entertainment facilities.
Current gambling laws in Japan
Under chapter 23 of the Criminal Code, most forms of gambling are generally outlawed in Japan other than state lotteries, horse racing, some forms of motor sport, and a small selection of electronic games such as Pachinko.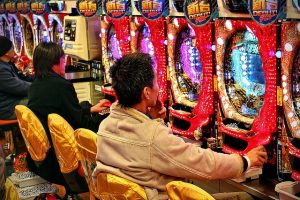 Even though certain governing parties have been all in favor of brick-and-mortar casinos being permitted to operate across the country for years – their overall legislature has ruled out these proposals continuously over fears of gambling addictions and excessive energy consumption.
If the plans for the newly Integrated Resorts do go ahead, there will be restrictions in place that will limit Japanese locals and residents from visiting the casino side of the establishment to only 3 times per week, (or 10 times per month) maximum. They will also be charged an entry fee of 6,000 Yen (about $53), in a bid to discourage guests from developing unhealthy gambling habits.
Whilst officials believe the casinos will have a "positive impact" on several aspects of the country's economy, a bill has been drawn up to emphasize the need for a solid plan to be formulated, which will effectively combat the potential risk of addiction. With almost 3.2 million people estimated to be addicted to gambling in Japan already – a cap on online race betting as well as help and advice lines have already been proposed as supporting measures.
Disclaimer: All images are copyright to their respective owners and are used by USA Online Casino for informational purposes only.