In a special promotion designed to encourage guests to wear protective masks inside their casinos, Caesars is paying guests $20 each for wearing a mask inside their properties.

Hail Caesars
Mask requirements are mixed in Nevada, with casino staff being required to wear them and guests only encouraged to do so. But the coronavirus epidemic is far from over, and Caesars Entertainment decided to put their money where your mask is. Special promotion teams wandering through Caesars' five reopened properties in Vegas recently gave out $20 to everyone they found wearing a mask.
Masks are not currently mandatory for casino guests but encouraged. But Caesars decided to up the ante in the name of safety and paid 375 guests $7,500 over the weekend. The promotion is ongoing and limited to gamblers entering Caesars properties. The promotion also applies only to Caesars Rewards members wearing masks, but anyone can sign up to get the free twenty.
The five Caesars-owned properties participating in the limited-time promotion are Caesars Palace, Flamingo, Harrah's Las Vegas, The Linq, and Paris Las Vegas. The promotion will continue until the State of Nevada makes mask wearing mandatory for all casino visitors.
COVID-19 Not Dead Yet
The coronavirus has not left the building yet, so public health and safety are paramount. Nevada Governor Steve Sisolak says the pandemic is far from over. "We're not in a post-COVID time," Sisolak said last week. "We're in the middle of a COVID-19 pandemic. We're right dead-smack in the middle of it."
Nevada reported 330 new cases of COVID-19 on Monday and three additional deaths. The total is nearly 14,000 known cases in Nevada, with nearly 500 deaths. Casinos recently reopened after a three-month lockdown, and new cases of the disease have already begun to emerge.
The Nevada Gaming Control Board currently mandates all players sitting at gaming tables to wear masks, especially tables without plastic barrier shields between players. But casino guests roaming freely about the casino are not yet required to wear masks, but the law may change at any time.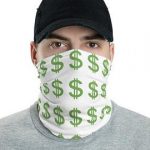 Fearing for the safety of their workers, casino workers labor unions are calling for stricter safety guidelines, including masks for everyone – not just casino staff. Union leaders are demanding that Nevada follow California's example, where masks are required for everyone gathering indoors who cannot maintain social distance.
But in the meantime, you can always go to Caesars wearing a mask for a quick $20 incentive. One man even got $4,700 for wearing a surgical mask. But we wouldn't recommend it; he was robbing the casino – and was quickly caught.
Disclaimer: All images are copyright of their respective owners and are used by USA Online Casino for informational purposes only.