Amid Theresa May's resignation from party leadership, the conservative party will have to elect another leader in her replacement. Meanwhile, Mrs. May remain Prime Minister of the UK, at least until the election of her successor. The successor will go on to become UK's Prime Minister for the period remaining until 2022 during the general elections.
Theresa May take over her post in 2016 following UK's exit from the European Union. This led to the then Prime Minister, David Cameron to exit his post as the UK's leader. A unanimous vote of her party members led to Theresa May to become Britain's second female Prime Minister; Margret Thatcher is the first.
On the top of her agendas as the Prime Minister was leading the UK out of the European Union. Mrs. May announced she snap elections the following months to strengthen her hand in the Brexit negotiations. The plans backfired as the conservative seats, fell to 317 from 330 although her party won the highest vote share.
The overall majority loss led her into an agreement with the democratic unionist party to support the minority government. May has received a substantial number of ministerial resignations since forming her second ministry in mid-2017.
In addition to the resignations, May has survived several defeats in parliament. Her Brexit negotiations in adherence to the Chequers agreement fell in January 2019. It was the largest majority against a British government. A revised deal she consequently announced was also defeated. She committed to stepping down as Prime Minister. However, on the condition that parliament passed her Brexit deal. The withdrawal agreement, for the third time, was rejected.
On the 24th of May, Theresa May announced her resignation as party leader. The resignation took effect on June 7th. She also stated that she would remain in office until the election of her successor. The conservative party officials go to polls in July 2019 to elect the new leader.

A Busy Time for Candidates
The excitement of being the next Prime Minister after May has caused a frenzy in the country's top contenders. Bold tax pledges and drug confessions by would-be PMs has dominated mainstream media the past few days since May's resignation.
Some candidates are clear favorites, others not so. Now, there are only ten candidates in the race for Prime Minister. Sam Gyimah backed down on June 10 after failing to win the prerequisite 8 MP backing for the race. Nominations had also closed in on kit Malthouse and James Cleverly who had announced their interest.
Here is a breakdown of the odds for each candidate remaining for Torie's leadership.
Top candidates for PM
Boris Johnson 8/13
A staunch critic of May's exit plan and a popular figure among the masses, there is no denying that former foreign secretary Boris Johnson is a huge favorite to win the popular vote.
Johnson quits Theresa May's camp in July 2018. It was hours after May lost David Davis, her Brexit secretary over her plans to maintain close ties with Brussels.
One of Johnson's strongest statements was when he called on Theresa May to stop dithering. He affirmed that Britain would not accept the contentious backstop arrangements designed to avert hard border in Ireland. He asserted that he would hold the EU to ransom and refuse to pay the 39 billion euro divorce bill. That is, unless favorable terms are agreed.
Johnson also pledged to slash income tax for 3 million British citizens from money reserved from a no deal exit. The 54-year-old is a current favorite despite falling behind a number of his rivals in March. In a bid to steal his proponent's thunder, Johnson began his campaigns a little later on June 12th. In addition, it seems like it is working very well for him
Jeremy hunt 9/2
The longest-serving British health secretary is another favorite to win the hotly contested Tories seat. He previously served the health secretary position before replacing Boris as foreign secretary.
Jeremy hunt left the department of health after securing a 20bn euro funding of the NHS. His relationship with junior doctors, though it was not the best as they scold him for changing their contracts. The doctors lament that they now cannot receive extra pay for their many shifts of work. The clause previously classified as unsociable hours.
Hunt had previously campaigned for British remains in the EU during the referendum, but now backs its withdrawal. Hunt has since changed his mind and now supports its removal.
The former health secretary announced of his interest hours after the resignation of Theresa May. He has received backing from the Trade Secretary Liam Fox in what they call a surprise move from Mr. Fox. He also has support from two heavyweights- Penny Mordaunt, the Defense secretary, and Amber Rudd, the Work and Pensions Secretary.
Andrea Leadsom 9/1
Although she was an unlikely candidate at the time, Andrea Leadsom reached the 'finals' of the 2016 leadership contest. A no stranger to controversy, Leadsom withdrew over her ill-judged remarks on Theresa May. Something about Theresa May not being a mother.
She is back for a second time now after announcing her leadership bid in the Sunday Times. The staunch pro-Brexit MP has described UK's continuing stay at the EU as 'disgusting.' She adds that a Eurosceptic Prime Minister like her would already have delivered the exit. She claims that she would do this on October 31st whether a deal is agreed upon or not.
To resolve the uncertainty for the EU nationals, Leadsom will introduce the citizen's right bill. She will then seek agreement in other areas where consensus already exists like reciprocal health care.
Michael Gove 14/1
On June 2nd, the Environment Secretary announced his bid to be the next Prime Minister.  Michael Gove later announced that he is willing to go soft on Brexit regardless of a delay.
Michael Gove poses as a unifying candidate and says he is ready to unite the unionists and the conservative. Gove says he is also prepared to deliver Brexit and lead the great country.
The candidate appears to be in defense of Theresa May's Brexit deal at the House of Commons. He is the second favorite to win the PM Job, alongside Andrea Johnson.
His cocaine admission may have, dented his chance of leadership.
Dominic Raab 25/1
The former secretary is also one of the top contenders with excellent Brexit credentials. He quit Teresa Mays cabinet in November 2018 citing that he just couldn't support her plans. Raab says he prefers an exit from EU, but is prepared to accept a no deal.
The Esher and Walton MP says the UK must demonstrate the resolve calmly to leave come October. He promises a pay raise for workers after Brexit
Rory Stewart 25/1
The Penrith MP claims that a no deal Brexit would be a huge mistake. Rory Stewart believes the deal would cause significant financial implications. He is now focusing on a more practical deal. Moreover, to get the deal done, he suggests that he would have to lock up MPs over the summer
Among his promises is building two million homes. However, his one-time opium use May get into his way of delivering this promise.
Sajid Javid 25/1
Sajid Javid hopes to be the first Prime Minister from the ethnic minority. He pledges an end to austerity and promises to fund billions for education
Other Candidates in the Race
Matt Hancock 100/1
Health Secretary Matt Hancock also announced his PM ambitions. He says he is ready to take a different approach to Brexit than Theresa May. Hancock says he will work to bring together the House of Commons on a deal before putting it to parliament.
He claims that a no deal Brexit will simply not be allowed in parliament. Brussels like his five-point plan and would find ease sailing through. He hopes to help the party look forward to the future after Brexit.
Esther Mcvey 100/1
An incredibly pro-Brexit supporter, Esther Mcvey says she's prepared to suspend parliament. This is to force Brexit regardless of whether there is a deal or not.
Mcveys asserts that it's time to recapture the optimism brought about by the referendum result. She is ready to steer the country forward with a clean Brexit.
Mark Haper 150/1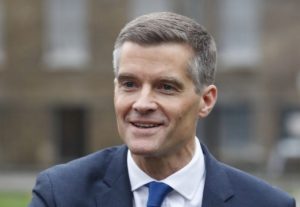 Former chief whip mark harper is an unexpected face in the leadership race. He campaigned for Britain's remain in 2016.
He positions himself as one to offer fresh thinking for the approach on Brexit and his party
In a series of secret ballots on June 13 to 20th, MPs will vote for their preferred candidate. The remaining two will remain and be voted by the more comprehensive conservative party the week of July 22.
So, who do you think will win?
Disclaimer: All images are copyright to their respective owners and are used by USA Online Casino for informational purposes only.