Sheldon Adelson, casino mogul, Republican party super donor, and staunch supporter of Israel, died Monday night of complications during his treatment for non-Hodgkin's lymphoma. He died in his Malibu home at age 87.

Rags to Riches
Sheldon Gary Adelson was born August 4, 1933 in Boston to Jewish immigrant parents from Lithuania and Wales. He went from hawking newspapers on the streets at age 12 to a billionaire casino magnate.
During his 70-year business career, Adelson tried his hand in more than 50 different businesses. He made his initial fortune in computer trade shows and invested heavily in Las Vegas casino development after selling his Comdex company in 1995 for $900 million.
His company, Las Vegas Sands (LVS) rose to become one of the largest casino companies in the world, owning casino resorts from Las Vegas to Singapore. His casinos took on a dreamlike quality and have become icons of the casino landscape. His Venetian resorts in Vegas and Macau faithfully replicate a piece of Venice, right down to the canals and gondolas. His Marina Bay Sands casino is the dominant structure in the Singapore skyline.
Forbes estimated his Adelson's net worth at $35.1 billion in March 2019. At his richest, he was making around $41 million per day.
Adelson's Impact
Starting with his purchase of The Sands casino in Las Vegas, Adelson's casino stable grew to cover all the major gambling cities on earth, and he was constantly pitching new ideas for casinos.
Rumors were circulating that Sands may sell its Las Vegas properties to concentrate on casino development in Asia. If that move goes forward, Sands will no longer hold any casino property in the Western U.S.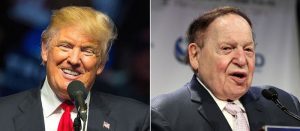 Sheldon Adelson was a major donor to the Republican party and staunch supporter of the Trump campaign. After the Supreme Court removed limits on political contributions in 2010, Adelson become the single largest donor in the 2012 elections.
Adelson also owned media companies and newspapers including The Las Vegas Review-Journal and newspapers in Israel. Adelson is a major supporter of Israel and generous financial donor to Holocaust memorials, educational trips to Israel, and Israeli medical research.
Adelson continued to perform his duties as chairman and CEO of LVS right up to a few weeks ago. He slowly reduced his working hours over the past year while seeking cancer treatment. After leaving the company to undergo treatment for non-Hodgkin's lymphoma, a form of blood cancer, he died from complications during the treatment.
Disclaimer: All images are copyright of their respective owners and are used by USA Online Casino for informational purposes only.