A robot walks into a bar… and replaces the bartender. Encore Boston Harbor is meeting profit shortfalls the way most big corporations do – by firing staff. And they plan to fire most of the bar staff. But worry not, Boston gamblers, you can still get your boozy concoctions served up in the casino by robots. And you don't even have to tip.

By Any Other Name
In a linguistic move that would impress the authors of such phrases as 'military intelligence' and 'friendly fire,' Wynn Resorts has created some doozies. It's not 'fire people,' it's 'rightsize our business.' It's not 'robot bartender,' it's 'automated drink dispenser.' Talk about a spin.
An automatic drink dispenser conjures up the image of a soda machine. In the 50s they had a job title called a 'soda jerk.' This was a young man who tapped soda, malts, and milkshakes at the diner. This job was replaced by a soda machine and an ice-cream dispenser. However, unless Encore plans to stack a wall of booze-pouring vending machines behind the bar, let's call a spade a spade: it's a robot bartender.
The $2.6 billion Encore Boston Harbor casino plans to lay off 70 non-union staff this week. The mega-resort's grand opening last June broke records and created a buzz felt across the U.S. and beyond. But then the honeymoon ended, and the dollar-drunk bean-counters had to roll up the red carpet and sweep up the old year behind them. When they saw a drop in profits, they decided they needed come cuts. And the cuts always start from the bottom up.
When a business can't raise profits, they inevitably cut costs. Wynn Resorts' first attempt to bring in more customers was when Encore Boston Harbor slashed fees and table limits. But the results weren't good enough. So now they are looking to cut staff.
According to Bostom.com, Wynn officials disputed the reported number of 70 staff getting the ax, adding that that it's too soon to tell the exact number of layoffs in the pipeline. But while Encore initially provided 5,000 new jobs in the Boston region, some of those jobs are not secure.
"Should any employee become displaced, we do everything we can to provide alternate job opportunities for them within our organization," Wynn's statement said. They went on to announce a job fair for those affected by the layoffs.
Maybe the fired bartenders can be trained to oil the robot bartenders. They've got lots of experience lubricating customers.
Robo-beer?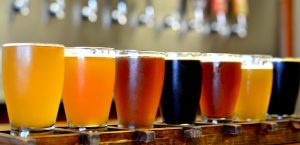 Masters of mixology will tell you that it's all in the pour, the shake, and the twist of lime parked on the rim of the glass. Then there's the banter, the blue-collar psychology, and the occasional free shot slid your way by your regular bartender as a 'salud!' to loyal service.
All of this will be gone when Encore Boston Harbor replaces some of its bar staff with robots. Some of the drinks require less effort than others; any monkey can press the button on the well drink dispenser or tap a beer. But to truly concoct a cocktail of the gods, the human element is important.
Even if it's just a nod and a smile while endlessly polishing the glasses, a bartender's job is to engage customers in conversation, help them relax with banter and booze. Will the robot barkeep dispense robo-beers from its finger while asking in a mechanical voice, 'How about those Red Socks?'
Still, Wynn Resorts is forgetting the most vital soft skill of all, which can't be hard-wired in a metal machine: when to say, 'you've had enough.' Will the robot bartenders have motion sensors in their ocular units which detect the gentle swaying of inebriated customers? Will their sonic detectors sense slurred speech? Will their memory circuits employ a complex algorithm to decide how to diplomatically cut off an intoxicated customer? Or will the tap shut down and the bot's neon eyes flash TILT?
Because that is a fine line, and a robot is a blunt instrument. Just like a giant corporation.
Disclaimer: All images are copyright to their respective owners and are used by USA Online Casino for informational purposes only.