William Hill has cautioned of lower full-year profits. The warning comes after the closure of several customer accounts to solve the issue of money laundering and problem gambling. The government has also clamped down on FOBTs or fixed-odds betting terminals.
Additional Factors
The bookmaker attributed an increase in taxes and rough conditions on the high street. The full-year profit forecast was decreased to between £225m and £245m. Analysts had estimated profits of £242.6m, and in 2017 the company made £291.3m.
William Hill also stated in a trading update that is benefiting from the latter phases of the World Cup. However, the corporation lost out to football punter results in October 2018 and had three weeks of loss-making in the summer with horse racing. William Hill predicted that online profits in 2018 would be £20m down from the previous estimate. In 2019, William Hill estimated that profits would be down by £25m. These numbers are partial because of remote gaming duty from 15% to 21%.
The Biggest Impact On the Numbers
The biggest impact comes from income checks from customers who paid online and tougher affordability. This is leading some customers to switch to other betting companies, which caused William Hill to close down more accounts.
The government has also made bookmakers conduct more checks on individuals who bet online. These regulations were put in place to prevent money laundering and tackle illegal or "problem" gambling. William Hill received a £6.2m fine by the Gambling Commission in February 2018 because the corporation failed to effectively combat money laundering in the two years leading up to August 2016.
Findings By The Gambling Commission
The Gambling Commission discovered that 10 customers deposited money tied to criminal offenses. This included one customer who was stealing money from their employer to fund a gambling addiction. Another customer was defrauding senior citizens.
This discovery was the second largest the Commission has ever made according to records, and came after a £7.8m fine issued to betting firm 888 in 2017. The firm failed to protect its customers, and about 7,000 consumers were able to access their accounts after asking for exclusion.
William Hill still has plans to close about 900 betting shops that are not bringing in a significant profit. This comes after a governmental decision to reduce maximum stakes on FOBTs from £100 to £2. Because of this, William Hill took an accounting charge of £915m during the first half of the year, which resulted in a £820m loss.
The Future of William Hill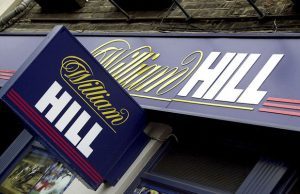 William Hill's chief executive Philip Bowcock stated, "We are continuing to experience a period of significant change for our industry." Bowcock also said that the corporation had made significant changes during a two-year period. The changes included transforming the way William Hill does business digitally. The company has also made adjustments to its management team and found methods to become more flexible financially. Bowcock asserts that William Hill has taken these measures to stay ahead of changes in regulations.
Gambling Commission Criticism
The Gambling Commission has been criticized in the past for not taking enough measures to stop illegal gambling. In June 2018, the Commission warned betting organizations that they would face a relentless escalation in penalties if they failed to introduce additional security checks for online bettors.
The Commission found that betting companies didn't do enough to stop its VIP bettors from losing hundreds of thousands of pounds and uses stolen funds to continue compulsive gambling. This led the Gambling Commission to charge £18m in fines to gambling companies in 2018 up to April 1. The previous years, fines were only £1.6m.
Disclaimer: All images are copyright to their respective owners and are used by USA Online Casino for informational purposes only.