Atlantic City has had its share of ups and downs. The AC rags-to-riches-to-rags story is as old as the ocean itself. But the top casino executives think it's high time for a massive cleanup of AC in order to provide a cleaner and safer environment for tourism and gambling.

Going in the Wrong Direction
The casino leaders of Atlantic City are united in one cause: the city needs to be cleaned up immediately. Expressing dissatisfaction with the levels of dilapidation, urban blight, and crime, top casino leaders want something to be done in order to save the city. Hard Rock CEO Jim Allen said that AC "is going in the wrong direction" and conditions are much worse than when his company bought the old Trump Taj Mahal casino three years ago.
Casino owners complain of huge potholes in front of their properties, which are surrounded by drug addicts and prostitutes. All casino owners are united in the belief that cleaning up Atlantic City would result in a rapid increase of visitation to the city.
The criticism comes at a time where the State of New Jersey, which runs the finances for Atlantic City, is attempting to replace the current mayor with a special city council in charge of local issues. Unlike other cities, the finances are not handled locally by the mayor and city manager, but by the state government. Atlantic City Mayor Marty Small is in favor of cleaning up the city, and recently called for the demolition of derelict Trump Plaza.
Buy the Biggest Bulldozer
According to Hard Rock President Joe Lupo, "Our buildings can't be surrounded by drug addicts and prostitutes," he said, "The streetlights need to work. There's a lot of work that needs to be done. The city needs to be in better shape. Go out and buy the biggest bulldozer the county has to offer, and you could probably make a lot of positive changes," Lupo told the New York Times.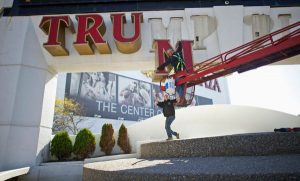 Abandoned casinos like Trump Plaza have become eyesores and display visible signs of dilapidation. Chunks of plaster are falling from the façade, and crime in the area has risen as a result. After Mayor Small called for its destruction, the building's current owner and billionaire investor Carl Icahn said he would be happy to do so – if the city foots the bill for half the demolition costs.
The top casino moguls united against an attempt to open a new casino at the Showboat. Experts say the New Jersey gambling market is saturated, so they rallied to stop the opening of a new casino – especially when the existing market is dying amid the urban blight of Atlantic City.
Disclaimer: All images are copyright of their respective owners and are used by USA Online Casino for informational purposes only.