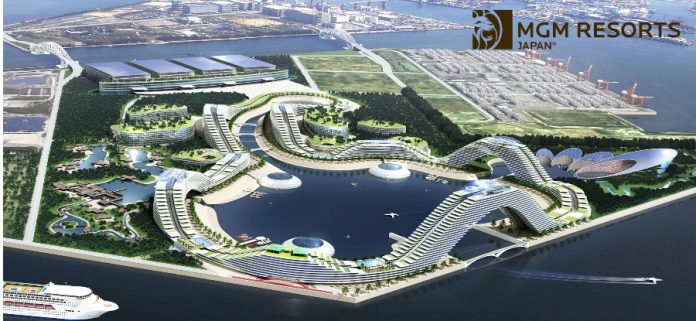 After pulling out from the deal which would see them become the sole operators of the Encore Boston Harbour Casino earlier this week, MGM are now refocusing their efforts back into the Japanese gaming market.
The casino giant, along with Wynn Resorts have been the pinnacle of the media these last few weeks, and though the potential sale of the casino in Everett never came into fruition, MGM Resorts are still keen to expand their gambling footprint outside of the states; setting their sights on the city of Osaka in particular.
Earlier in the year, Japan ruled out the provision of 3 new gaming licenses in the country where global operators would be able to submit applications for running a large-scale casino. MGM were one of the first to express their interest, and have recently vowed to invest approximately 1 trillion yen ($9 billion) into the project; collaborating with financial services group Orix, along with 10 local companies.
By creating plenty of solid partnerships and leading with an "Osaka First" strategy – MGM are hoping to come out top for the license bidding process when it takes place. They have also boasted about the multiple job opportunities which would become available if they end up becoming one of the successors – 15,000 to be exact.

Laying the Groundwork
During an interview with MGM Resorts Japan's CEO, Ed Bowers at the Integrated Resort Expo last week, said how "We will include other Kansai companies in our consortium, say, more than 10 companies. MGM and Orix will each hold significant equity and other companies will have smaller equity stakes."
Osaka's former governor, Ichiro Matsui said back in February how any consortium bids involving local companies would certainly be prioritized. In this case, the consortium would account for 50-60% of the total investment.
MGM and Orix are allegedly planning to have an equal split in equity of approximately 500 billion yen ($4.5 million), while other stakeholders and companies will receive smaller cuts.
When speaking to MGM's chairman, Jim Murren – he announced how the 500 billion yen is purely an "educated guess" and they would not be looking to make any decisions without consulting and finalizing plans with banks and partners first. He mentioned how they were seeking strategic partners rather than equity partnerships at this point, including avenues like entertainment, catering, and companies in the technology market.
Murren also said "We don't have an artificial cap for the number of companies inside and outside the consortium to partner with.," and how it was more of a matter of finding the "right mix of companies aligned in their vision and culture that we are trying to create."
Policies Are Yet to be Released
Though it sounds like MGM have the upper hand against other competitors at this point, some analysts do believe they are acting in haste and making arrangements too soon. The Tokyo government are yet to publish the specific guidelines surrounding the 3 potential integrated resorts in the country.
Even though Osaka has been considered the most practical and likely option since talks first began, a senior government official said on Wednesday how these guidelines will unlikely be announced until after Fall, when the upper house elections would have finished.
Jim Murren did not mention anything regarding the central government's delay, but he did express during a meeting how they are hopeful that Osaka will see a fully-fledged MGM casino in operation before the start of the 2025 World Expo. Murren said how it would be "incredibly tough, but not impossible" and that MGM will be doing their "best to meet that goal."
The government have said that Tokyo will award the 3 licenses to the top bidders, after the basic policy involving integrated resorts is released. The operators themselves are likely to be selected next year.